2020 Mustang Bullitt:

Hitting the Bull's Eye
Brian Armstead - Drive Latino
It's relatively easy to write about the current generation of Ford's iconic Mustang. Just pop open your wallet or purse and look inside. If there isn't a ton of cash, no problem. Ford has a more-than-capable Ecoboost four cylinder Mustang (from $26,670) that outputs a crazy 300 plus horsepower.
If there is a wad, but not a stack, then the Bullitt Mustang ($47,810) is your Ponycar of choice. If there is a stack of dough, then the Shelby GT variants ($60,440-$73,435) are must have supercars.
But no matter the financial choice, you'll be behind the wheel of a car that's known worldwide for being fun, capable and collectible.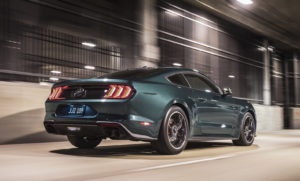 Which brings us the to the 2020 Bullitt Mustang. Why the name "Bullitt?"
Older readers will know that it eponymously pays tribute to the Mustang driven by legendary actor Steve McQueen in the 1968 thriller, Bullitt. McQueen was cast as San Francisco Police Department detective Frank Bullitt, working an organized crime case. Ultimately, Bullitt realizes he's being tailed by the bad guys, and turns the table in one of the greatest car chase scenes in cinematic history with Detective Bullitt chasing a Dodge Charger in his 1968 Ford Mustang GT Fastback. McQueen was also an established racecar driver, and actually drove the Mustang in many of the chase scenes.
So in 2001, Ford honored the legacy of the movie Mustang with the first Bullitt edition Mustang GT. In 2008, another version was released to commemorate the film's 40th anniversary, and the current version three debuted in 2018.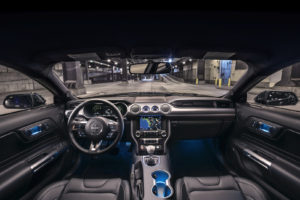 For 2020, the Bullitt Mustang may not have the power of Shelby Mustang performance variants, but it is still one heck of a fun car to drive.
Visually, the traditional Mustang silhouette is retained; with the only visual cue that you are driving a special edition is the absence of the "Pony" on the car's grille. That grille channels cool air to Bullitt's 480-horsepower, 5.0-liter V8, with 420 lb-ft of torque.  A smooth shifting six-speed manual transmission with rev matching is super crisp under fire. Selectable drive modes include Normal, Snow/Wet, Sport, Track and Drag Strip. I spent most of my drive time toggling between Normal and Sport, lest I lose my driver's license. I could envision my self running afoul of the law, and ending up in court. "Your Honor," you must understand any Mustang V8 has one of the sweetest engine sounds ever." Good luck with that defense. I was wise and just slowed down! The hypnotic sound of Bullitt's V8 is further enhanced with an active valve performance exhaust system that lets you control noise levels. Live in a quiet neighborhood? Set it for Quiet Start. Mad at your neighbors? Sport mode will certainly even the score.
On the road, the Bullitt offers surprising levels of comfort and convenience. That's provided you are in the front seat of this four-place sports coupe. If you and your wingman or wingwoman are over six feet tall, rear seat legroom is reduced to small adult/child status. Think major airline in the middle seat at the rear of the plane. Ride quality is compliant and can be dialed in for comfort or road carving.
But in reality, I doubt very few buy a Bullitt or any Mustang as family or crew haulers. You buy one of these cars for the visceral experience that combines all of the senses: Visually stunning and aurally exciting, with a tactile cabin and rubber burning aromas, all "tastefully" done.
Mustang Bullitts are also contented with a full compliment of safety, luxury and convenience gear. It's a complete package that slots nicely in the array of Mustangs available from Ford.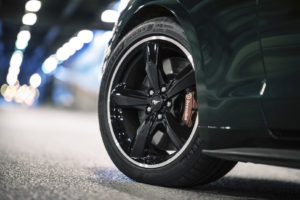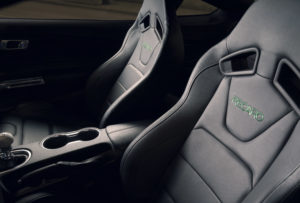 Ford has hit the proverbial "Bulls-Eye" with the Bullitt. As mentioned earlier, Bullitt prices begin at $47,810. And while they're also available in Shadow Black, my only choice would be the same "Dark Highland Green" that adorned the '68 movie star.
Seems only fitting to honor the legacy of this terrific automobile.