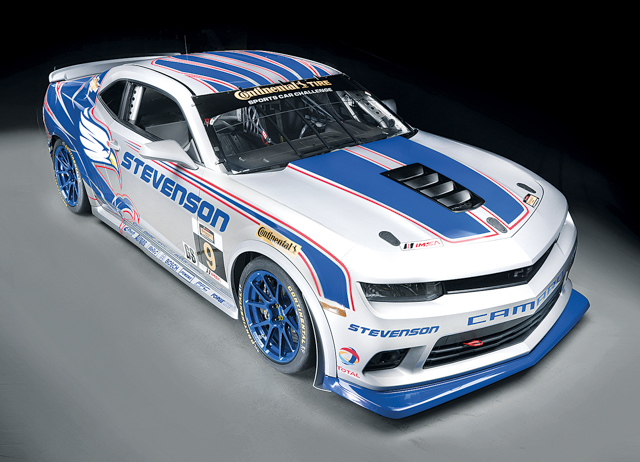 If there was any doubt that the current generation of muscle cars consists of performers as serious as the classics (there really wasn't, was there?), Chevrolet aims to put those concerns to bed once and for all with the new Camaro Z/28. The model, whose roots are in racing, will appear on track in race form at Daytona this year. The new Z/28.R will compete in the IMSA Continental Tire Sportscar Challenge, a 2.5-hour endurance race that takes place before the Rolex 24 at Daytona.
Of the cars that will participate in the IMSA Continental Tire Sportscar Challenge, the Z/28.R will be one of the closest to a production car. The Z/28.R was developed alongside its roadgoing counterpart, and the two cars share aerodynamics, LS7 7.0 liter V8 engines and a limited-slip rear end. Nearly all of the downforce-generating components, including the front splitter, rear spoiler, hood extractor vent and belly pan are shared between the cars.
Z/28.Rs will be fielded by Stevenson Motorsports and CKS Autosport, in the GS class this coming Friday. The IMSA Continental Tire Sportscar Challenge is the first of twelve races this season.
"The original Camaro Z/28 was designed for racing and became an iconic performance car through its hard-fought victories," said Mark Kent, director of racing for Chevrolet. "A new chapter in racing begins this week, as the new Camaro Z/28 makes its competition debut in one of the most hotly contested series in motorsports."