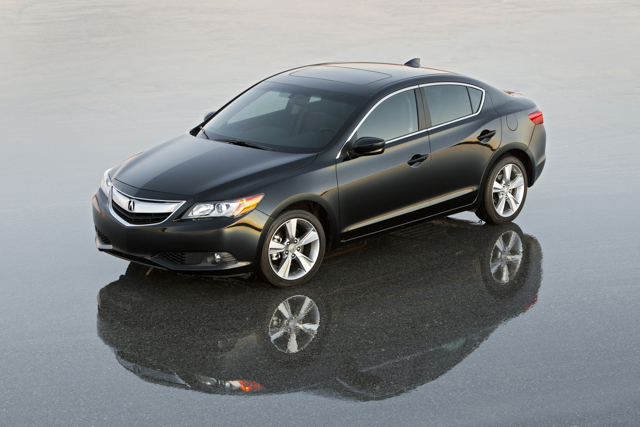 The ILX seems like a bold move into a new market for Acura. The premium compact game is becoming a significant one, and the ILX is stepping up to face the Mercedes CLA-Class, Buick Verano, Cadillac ATS, Audi A3 and other small luxury-sport vehicles.
However, that's not entirely true. Acura was one of the first players in the premium-compact market, actually. Remember the Integra? Though the junior Acura was geared more toward sport than luxury, it represented Acura at the lower end of the luxury market for many years, before morphing into the RSX and then later disappearing entirely. And now Acura is back, with the more conservative ILX.
Like the Integra, the ILX shares DNA with the Honda Civic. While that's not a terrible thing, necessarily, the question is, can a re-engineered Civic stand up to a group of compact luxury sedans with a much lower badge-engineering quotient?
Well, it's a reasonable effort. A Civic's not a bad thing to be based on, after all. And with the beaky nose and handsome interior appointments, the ILX does feel like an Acura. Sort of. Okay, to be honest, it feels like an old Acura. Acura's family dash offers a dramatic and high-tech look, with a large information screen up high and a central-control knob front and center. It's a bit confusing to use, and takes some learning to get the multi-function screen to do exactly what you want. The front seats are more spacious than the rears, but that's not uncommon in a car this size. The ILX is somewhat monochromatic compared to other luxury vehicles, and it's a generation behind in terms of pleasant touch-points and materials as well. Very nice? Yes. As handsome as the Audi A3, Buick Verano or even a MINI Cooper? Not quite.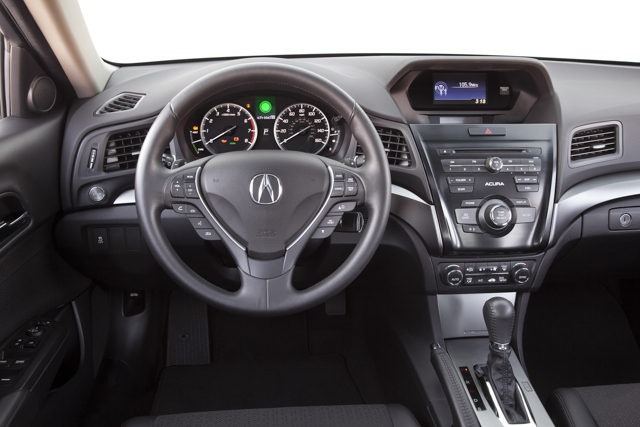 Acura makes up for what it might lack in style with equipment. Leather upholstery, dual-zone climate control, keyless start, rain-sensing wipers and a backup camera with multiple views are standard. The Technology Package adds a navigation system, while the Premium Package upgrades the sound system with Acura's ELS surround sound, a subwoofer and 360-watt amp. Both option packages feature active interior noise cancellation as well.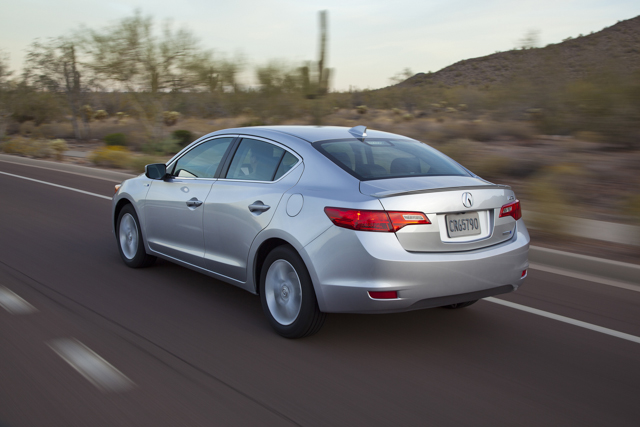 The exterior fares somewhat better in the style department. The ILX looks good, in a slightly anonymous way. This compact does a very good job of mimicking the style of its larger siblings, enough so that it can be hard to tell that it's so much smaller than the TL. A longish hood is shaped by the trapezoidal Acura grille, and the front fascia rises at the center to give the ILX a slightly beaky face. Body-colored mirror caps and just a touch of chrome trim adorn the smooth body side, and at the rear, the taillights have been made wider, with more pronounced rear fenders, a curved trunk lid and steeply raked rear window providing a fastback look. Handsome sixteen- or seventeen-inch wheels feature a sporty, open design.
That Honda Civic DNA may make the snobs scoff, but it does mean the ILX is blessed with nimble handling, a solid structure and good freeway manners. The suspension uses MacPherson struts in the front and a multi-link rear. The ILX is tuned for a smooth but responsive ride, and delivers handily. Electronic power steering saves energy, and the ILX exhibits Acura's positive, light-touch handling.
The ILX also offers a wider range of powertrain options than many of its competitors. Three engine options are available: a 2.0 liter four-cylinder, a 2.4-liter four and a hybrid. The base engine is the 150-horsepower 2.0 liter, upgraded from Civic duty with a five-speed automatic transmission and additional sound deadening in the car to keep things quiet. The 201-horse 2.4 liter engine offers more power and more confident acceleration, as well as adding the option of a six-speed manual transmission that'll appeal to the sport-compact enthusiasts among Acura's clientele. The ILX Hybrid combines a 1.5 liter gasoline engine with an electric motor to produce 111 horsepower and a healthy 38mpg on the freeway.
But is that enough? In the style-conscious premium-compact schoolyard, the ILX is probably going to get pushed into the mud by the Mercedes CLA and Cadillac ATS, and while it's down there a MINI Cooper and its own cousin the Civic are going to take its lunch money. Don't get caught up in the popularity contest, though. The ILX is a very nice little car, and if you're looking for Acura's techno-style in a smaller package, then this one's for you. ILX pricing starts at $26,900, and $28,900 for the hybrid. Acura's simplified pricing structure limits the car to just two option packages and the optional engine; a fully loaded ILX comes in at just under $30,000.