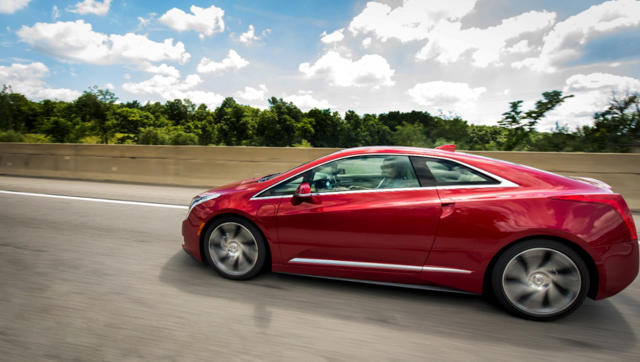 Cadillac's new flagship goes on sale in January, and it's taking an unlikely form: that of a range-extended electric vehicle.
Technology is the new luxury, and so Cadillac has placed the all-new ELR range-extended electric vehicle at the top of its lineup. This newcomer may share some technology with the Chevrolet Volt, but that's where their similarities end. The ELR is built around a T-shaped 16.5 kWh lithium ion battery pack and includes a 1.4 liter gasoline engine as an electric generator. The battery's thirty-five mile range is augmented by the gas engine, enabling up to about 300 miles of total range.
The well-balanced battery pack should also provide competent and entertaining handling. The four-mode driving system is common to what's found in other hybrids and range-extended electrics, with Touring and Sport, and Hold full-electric settings. The Mountain mode conserves electric power in hilly terrain.
This extended-range electric coupe is equipped with Cadillac's CUE infotainment system, as well as the Cadillac Shield suite of owner benefits. Cadillac Shield includes remote vehicle diagnostics, roadside assistance and premium maintenance. The ELR will also have a Concierge Representative reachable by phone for information on battery care, home charging and scheduling vehicle service. Inside, the leather's hand-crafted and the wood trim is real, and a standard navigation system is accessed through a large eight-inch screen. LED lighting front and rear, a lane departure warning system and forward collision system are also standard. A new Regen on Demand system enables the driver to use the ELR's momentum to recharge the batteries for short bursts.
Cadillac has set pricing of the ELR at $75,995, and the new car goes into production in January of 2014.