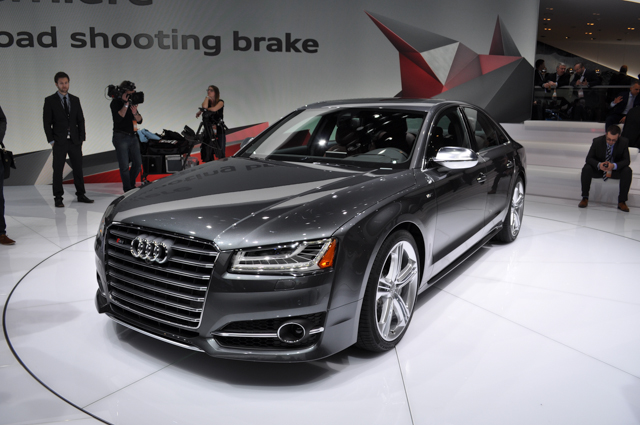 Audi's flagship sedan is refreshed for 2915, and Audi pulled the wraps off of the changes at the North American International Auto Show in Detroit. The biggest Audi is more expressive, featuring restyled LED headlamps and a new grille that emphasizes the resculpted hood and front bumper. The aluminum-intensive construction hasn't changed, but the car looks a bit more athletic. The S8 presents an even tougher look, adding larger air intakes and monochromatic trim.
Powertrains have been upgraded somewhat as well, for tweaks to efficiency and performance. A 3.0 liter direct-injection V6 is still the standard engine, and it's backed up by a more powerful 4.0 liter V8 that's gained 15 horsepower for at total of 420. Top of the line is still the 6.3 liter W12, and Audi's added Cylinder On Demand cylinder-deactivation that improves fuel economy at freeway speeds.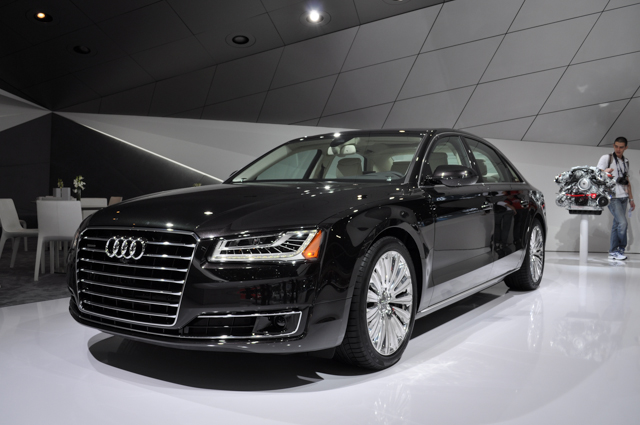 Audi keeps the A8's techno-barge card properly punched with a full suite of driver-assistance systems, including active lane assist, a pedestrian-detecting night-vision system, a head-up display and an active parking assist. Front and rear seats with heat and massage functions are also available.
The A8 and S8 land this summer as early-2015 models.