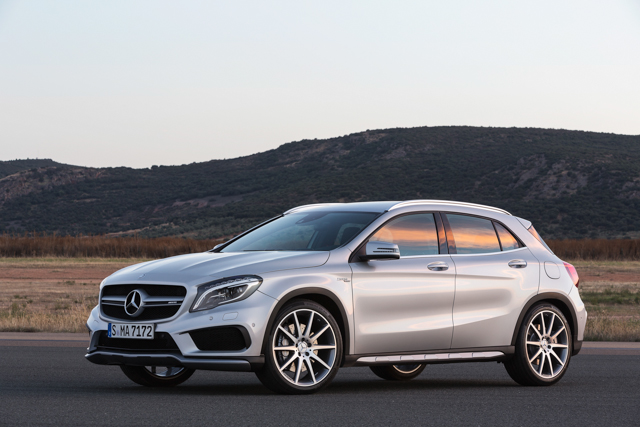 Mercedes wasted no time getting serious with the new GLA-Class. With the wraps barely off of the new compact crossover SUV, AMG has given birth to its version. The GLA45 AMG, shown in concept form at the Los Angeles Auto Show in November, hits the streets hard and fast in the fall of 2014. The production car makes its official debut next week at the North American International Auto Show in Detroit.
Think of this as a Nissan Juke NISMO, only a couple of tax brackets higher. The GLA45 AMG is a compact, low-slung crossover utility vehicle with the soul of a sports car. More specifically, it's the hand-built engine from the CLA45 AMG (which shouldn't come as a surprise). This turbocharged 2.0 liter four-cylinder puts down 355 horsepower and 332 pound-feet of torque. The engine has been thoroughly optimized to handle that kind of power, with forged pistons, direct fuel injection and a twin-scroll turbocharger. A sport exhaust makes sure the good noises get heard. AMG's seven-speed dual-clutch automatic transmission is used, as in the CLA45 AMG, and all-wheel drive is standard.
AMG never fails to go through the suspension as well as the powertrain, and the GLA45 AMG is no exception. This vehicle sits a bit higher than the average sports sedan, but stiffer steering knuckles and redesigned bushings combine with a new four-link rear axle to provide stable handling. AMG will add stiffer springs and shocks as part of a performance suspension option as well. The optional red brake calipers highlight the high-performance AMG braking system.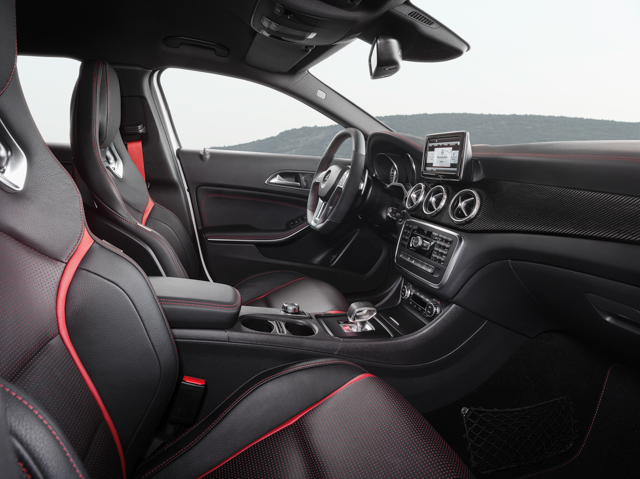 Styling upgrades include a choice of three wheels in nineteen and twenty-inch sizes. The distinctive "twin-blade" radiator grille indicates that this is a performance Mercedes, of course, and AMG's air deflectors and large lower air intakes are familiar cues to the marque's racers. AMG offers a range of optional appearance upgrades if that's too subtle for you as well, including carbon-fiber mirror housings, a rear spoiler, and an aero package with a deeper front splitter. Additionally, Mercedes hopes to appeal to tuner-car fans with the "Edition 1" which adds even more exterior distinction, including AMG racing stripes, a high-gloss black aero package and blacked-out wheels.
We'll get a close-up look at the GLA45 AMG next week, at the North American International Auto Show in Detroit.