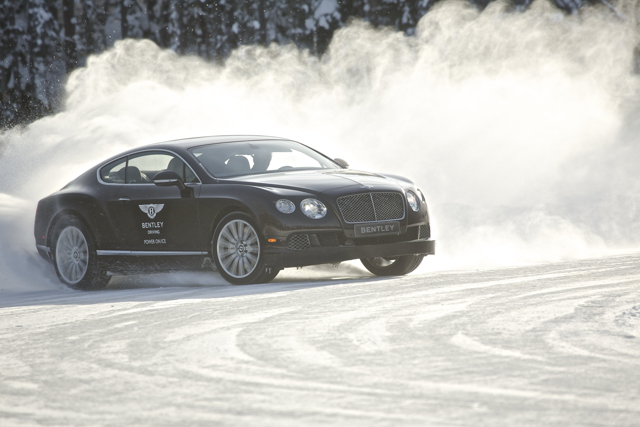 What could be cooler than driving the new Bentley Flying Spur? Learning to drive your new Flying Spur on ice with four-time World Rally Champion Juha Kankkunen as your mentor, of course. That's just what Bentley is offering as part of its Power on Ice 2014 winter driving experience.
The Flying Spur has been added to the collection of Continental GT coupes that will be shipped to the Ruka Peak resort in Finland to tackle the surface of a frozen lake barely sixty kilometers from the Arctic Circle. The four-day program allows drivers the chance for hands-on experience in challenging weather conditions, as well as showing off the prowess of Bentley's all-wheel drive models. V8 and W12 Continental GT models are provided. The Flying Spur, which currently claims the mantle of world's fastest luxury production four-door, is W12 powered.
Kankkunen and a team of driving experts from Bentley will be on hand to offer in-depth instructions on vehicle control in all weather conditions. "The Flying Spur is going to be an excellent addition to the Power on Ice experience," Kankkunen said, "and we're looking forward to showing what it is capable of. There's going to be something special about driving a luxury car you'd expect to see in Monte Carlo or London across the snow and frozen lakes."
The Power on Ice events will take place between February 6 and March 6, 2014. Ice driving is a unique skillset, and definitely a thrill for those bold enough to brave the cold.