2019 Miami International Auto Show: Superior Showcase
Brian Armstead
South Beach Miami and cars go hand in hand. Walk along Ocean Drive on any evening, and the parade of Range Rovers, G-Wagens, Jeeps, Lamborghinis, Ferraris, McLarens, and a plethora of convertibles of every make are proof of that. Oh, and let's not forget Roll-Royce and Bentley. "Make it exclusive and they shall buy it" should be the mantra for the automotive feast for the eyes and ears.
So having a premier auto exposition at the newly renovated Miami Convention Center is a natural bridge between dreams and reality. Miami's affluent, well versed, multi-cultural community means vehicle manufacturers take that community very seriously.
The 49th Miami International Auto Show is open from November 1-10, 2019. The show is officially sponsored by the more than 200 dealers in the South Florida Dealers Association.
Media day was held November 1, and featured several new reveals. Jeep started media day with the reveal of the 2020 Jeep Wrangler and Gladiator "Three 0 Five Editions," which pay homage to Miami's 305 area code. The Three 0 Five Editions are adorned with special badging and decals, with an aggressive externally mounted lighting package for evening to nighttime off-roading. Steel, tubular doors and a steel front bumper outfitted with a winch complete the rugged appearance of both models, with the Wrangler also featuring a standard power retracting canvas roof so you can be seen during the aforementioned Ocean Drive cruise. Choose between two "Miami colors:" Bright White or Punk'n Orange Metallic. Only 305 of these special Jeeps will be built – 255 Wranglers and 50 Gladiators.
Next up was Nissan, which showed the new GTR Nismo. The GTR has evolved nicely over its production run, and now for 2020, the GTR Nismo features a 3.8-liter V6 outputting 600 horsepower. A dual-clutch six-speed transmission channels power to all four wheels. Carbon fiber is extensively used on the exterior and interior, and hood mounted NACA style ducts ensure proper engine breathing. Bilstein "Damptronic" shock absorbers help keep the GTR Nismo firmly planted in corners, while massive Brembo carbon ceramic brakes with full floating rotors rapidly slow the GTR Nismo down from supercar speeds. The Nismo GTR is a pure racecar for the streets, and comes in at $210,000 MSRP.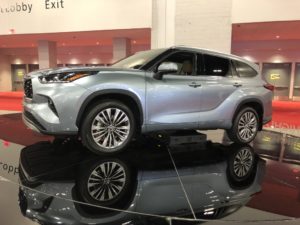 Toyota was next, and touted the new Highlander and Supra. The Supra has been all the rage since its reintroduction after a long hiatus. Smartly styled and loaded with performance and comfort accoutrements, this BMW-based coupe (BMW Z4) has received acclaim from media and consumers.  The Highlander continues with several powertrain variants including hybrid power, and is sure to continue as a best seller in the mid-sized Crossover Utility Vehicle class.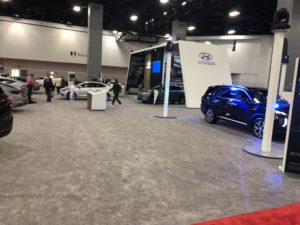 The final media presentation was by Hyundai, which gave assembled media of the sure to be a home run 2020 Sonata. The all-new Sonata wears a front end with a strong Maserati resemblance, and a rear with cool LED lighting that reminds one of the impressive rear halo on the Dodge Charger. It comes standard with a raft of features, and with several trim levels available, the "it's in there" marketing strategy Hyundai has successfully employed is sure to make the Sonata a more than serious contender to Toyota Camry and Honda Accord. One really cool feature that Hyundai showcased during media ride and drive sessions after the formal launches was Remote Parking Assist.  Here's the scenario: You park properly at the mall, and when you return, the inconsiderate of the world have parked so closely to you on both sides you can't even get in.  Remote Parking Assist is activated with a press of a button on your key fob, and will self park your Sonata or pull it in or out of a tight spot. Brilliant! 
Hyundai also gushed about their terrific Palisade SUV, which is seriously hard to find at dealers due to its immense popularity.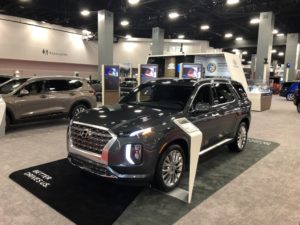 For the general public, Ride and Drive opportunities are available from Nissan, Chevrolet, Toyota and Jeep with their popular "Camp Jeep" obstacle course. Gaming areas, drive simulators and vendors selling everything from auto gear to electric bikes are on display. And be sure to check out the exotic and vintage cars on display!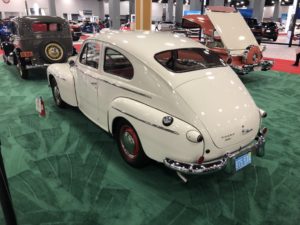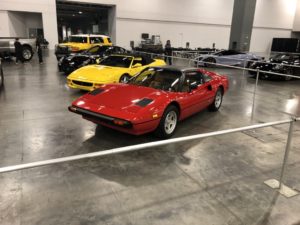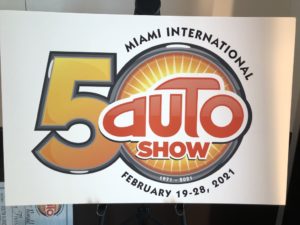 The 50th Miami Auto Show will change dates from traditionally in November, to February. The next show's dates are February 19-28, 2021.
Enjoy the photos of the show!