2020 Hyundai Palisade: Unmatchable Formula
Brian Armstead
In today's automotive market, to have a manufacturer launch a new 7-8 passenger SUV is nothing new. I recently wrote an article about the stellar BMW X7, with seven-passenger capability. The X7 is one fine vehicle – amongst the best SUV's I've ever driven. I guess for a base price of about 74K for the six cylinder and 93K for the V8 model, it ought to be damn good.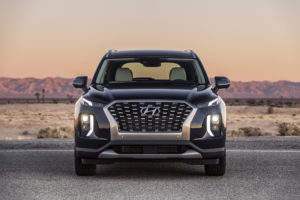 In the idyllic setting of Coeur d'Alene, Idaho, Korean manufacturer Hyundai unveiled their Flagship, the 2020 Palisade.
Palisade slots in at the top of the Hyundai CUV/SUV food chain, with Kona, Tucson, and Santa Fe as smaller, less expensive siblings.
I have just two words for Hyundai and for corporate cousin Kia, which recently launched the hot selling Telluride, which is nearly identical to the Palisade in most respects: Unmatchable Formula.
Why have I pegged the fraternal twins as unmatchable? Because in the case of the Palisade, the base price for the lowest trim (SE, front-wheel drive) model is just $31,550. The price is not a typo folks; about $32K will put you behind the wheel of this complete family or cargo hauler without any regrets on your part. The top Limited trim with all-wheel drive is also a steal at $46,400. A Nissan Maxima in mid-level trim I recently drove was about $43,000 without half of the safety and convenience gear in the Palisade. If the auto industry had a pound for pound champ like the boxing world, Palisade and Telluride would be undisputed champions.
Stylewise, both are ruggedly handsome, though the Palisade is clearly the luxury leader of the pair, with the Telluride skewing to a more rugged profile.
Palisade is available in the following trim levels:
*Front-Wheel Drive - SE ($31,550), SEL ($33,500), and Limited ($44,700)
*All-Wheel Drive – SE ($33,250), SEL (35,200), and Limited ($46,400)
Though the pair are super close in execution, Palisade has several key features not available in Palisade, and a fully loaded Palisade is actually cheaper than a fully loaded Telluride. More on that later.
Driving through the picturesque terrain in and around Coeur d'Alene, we experienced the Palisade at its best.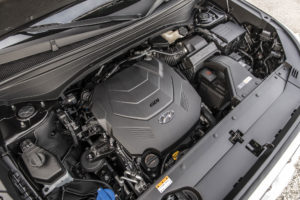 Palisade is powered by a more than capable 3.8-liter V6 outputting 291 horsepower and 262 pound-feet of torque. Normal road handling manners are crisp and confident, with clear sightlines front and rear. Need to tow? No problem. When properly equipped, Palisade can tow 5,000 pounds, more than enough to trailer your mid-sized power or sailboat, two adult horses with trailer, or a hay wagon full of gleeful kids during fall pumpkin festivals. Trailer Sway Control is standard on all trim levels. And if you aren't towing, but still want adventure, Palisade is equipped for reasonable off-roading. No, it won't conquer Moab, Utah's famed Rubicon off-road trail, but it's quite competent on gravel, snow and mud covered trails. Available HTRAC All-Wheel Drive is a multi mode system, with driver selectable Normal, Sport and Smart modes, as well as a dedicated Snow Mode. HTRAC also features a locking differential function. Additionally, depending on drive and trim, the following are standard or available:
8-speed automatic transmission

Four-wheel independent suspension with self-leveling rear suspension

Four regular drive modes – Smart, Eco, Sport and Comfort 

Downhill Brake Control, which maintains a controlled descent on steep roads
On the safety front, Palisade really shines and begs again to ask the question of how Hyundai can pack so much technology in an inexpensive package. Here's a list of main safety technology in the Palisade, not counting expected safety features like multiple air bags, roll and electronic stability control and anti-lock brakes:
Rear Blind Spot Collision - Avoidance Assist

Rear Cross-Traffic Collision - Avoidance Assist

Blind View Monitor System

Lane Following Assist

Safe Exit Assist

Highway Driving Assist

Head Up Display with multiple, selectable information points

Driver Talk (allows direct conversations with second and third rows via the audio system)

Quiet Mode (second and third row audio can be muted for sleeping passengers)

Rear Occupant Alert with Ultrasonic Sensors
Three of these features warrant additional attention, and big kudos to Hyundai for being a leader in useful safety technology.  Yes, I said it, a leader in useful safety technology.
Safe Exit Assist and Ultrasonic Rear Occupant Alert - both have the potential to avert needless tragedies. Rear Occupant Alert monitors the rear seats using an ultrasonic sensor that helps to detect the movements of children or pets. The system first reminds drivers to check the rear seats when exiting the vehicle with a message in the center instrument cluster display. If the system detects movement in the rear seats after the driver leaves and locks the vehicle, it will honk the horn, flash the lights and send an alert to the driver's smartphone via Palisade's telematics system. Tragically, an average of 36 children die each year in hot, locked vehicles.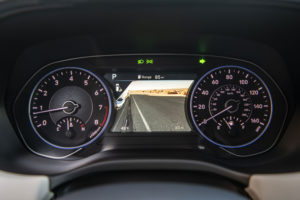 Safe Exit Assist is another potential lifesaver. Consider this scenario: You pull over to a roadside spot where your children can relive themselves. But without you or your child releasing it, another vehicle is approaching fast from behind. Safety Exit Assist uses radar to detect that vehicle and override you if you attempt to deactivate the Electronic Child Safety Lock, issuing an acoustic and visual warning as it does so. The result: the rear door your child is trying to open remains locked until the vehicle approaching from behind has passed by, averting a potentially lethal accident. When the road is clear, the Electronic Child Safety Lock can now be deactivated and your child can open the door and exit the vehicle safely.
When the Palisade driver signals a lane change, cameras in Blind View Monitor system show what's on the side of the vehicle with a display in the center gauge cluster. Very, very cool-very, very useful.
So we know Palisade can tow, and keep you and up to seven passengers safe. But does it carry you in style? I'll throw an emphatic "yes" back at you.
Palisade rivals SUVs costing tens of thousands more, like the aforementioned BMW X7, and checks all of the boxes in the top Limited model.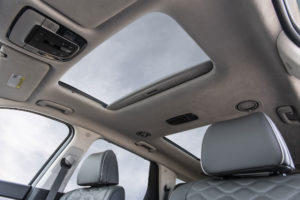 Premium, quilted Nappa leather, available ventilated Captain's Chairs in the second row, one touch access to third row in eight passenger models, power folding third row seats (class leading 45.8 cu. ft. with both rows folded/18.0 cu. ft. with third row folded), gorgeous "Floating Bridge Console, full panoramic roof, roof mounted vents for second and third row heating and cooling and more.
Information is viewed via a 10.25" wide format touchscreen, and also via the 12.3" fully digital TFT center console. Killer "Quantum Logic" audio by Harman/Kardon, 16 cupholders, Blue Link telematics, and various storage compartments and nacelles are desirable, while two individual Bluetooth connections could mean the end to second and third row bickering over who gets to connect.
If you're considering the purchase of a Palisade or Telluride, know that the Palisade offers the following standard features which are not standard on Telluride, including:
Shift-by-wire push button gear selection, which allows additional storage under the center stack

Steering wheel mounted paddle shifters

High Beam Assist

Conversation Mirror (allows driver to see all occupants)

Twin tip exhaust

Palisade specific European Sachs dampers and suspension tuning

Rear Seat Quiet Mode
Palisade also skews to a more premium buyer at the top trims with additional features not offered on Telluride's top SX trim, including:
Fully Digital 12.3" Instrument Cluster

Power folding/unfolding/reclining 3

rd

 row

Quilted leather door panels

Body-color wheel arches and fascia trim

Chrome skid plates

One additional USB port (total of 7)

Remote engine starter (key fob)

12 speakers for Harman-Kardon premium audio (Telluride-10)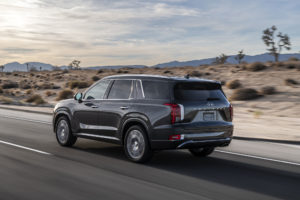 The 2020 Hyundai Palisade is a terrific SUV that can do it all. How Hyundai can so fully content all of their vehicles, offer such impressive warranties (10 yr./100,000 mile powertrain warranty), and still undercut the competition by thousands of dollars makes me wonder how long this unmatched formula can last.
Don't miss the boat folks; Hyundai is cruising along at full speed.◊