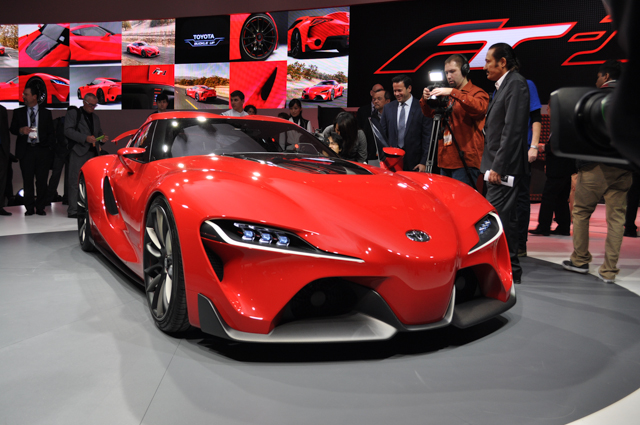 Toyota's concept sports car went from imagination to reality, almost literally before our eyes.  A computer-animated simulation of the car took the stage first, followed moments later by the real thing.  Toyota's reminding us that the new FT-1, a conceptual sports car, came to life in the virtual world before being made real.
The FT-1 is intended as a design trendsetter for the Toyota lineup. Toyota's line up has been without a halo sports car for quite some time, and the FT-1 could fill that role. There are hints fo the design of the iconic Toyota 2000GT in this front-engine, rear-drive coupe's lines. The curvy body's reminiscent of the Dodge Viper, as well. A glass panel on the hood shows off the engine, and the car's minimalist design came from Toyota's California design studio.
In the slick cockpit, a head-up display keeps the driver's eyes on the road, and steering wheel controls are designed to keep the driver's hands on the wheel.
It's got a video-game look to it, and there's a reason for that. The FT-1 has already been programmed into Gran Turismo 6, and whether it gets the green light for production or not, it'll be downloadable into the game. The computer simulation was actually used during the development of the car.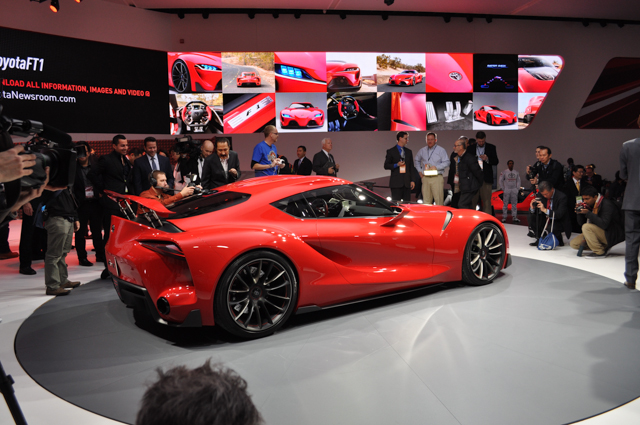 Does Toyota need a sports car halo, a successor to the Supra? Toyota fans have certainly been clamoring for one for years. Toyota didn't speak of any production plans, so for now we'll just have to enjoy the FT-1 on our PS3s.