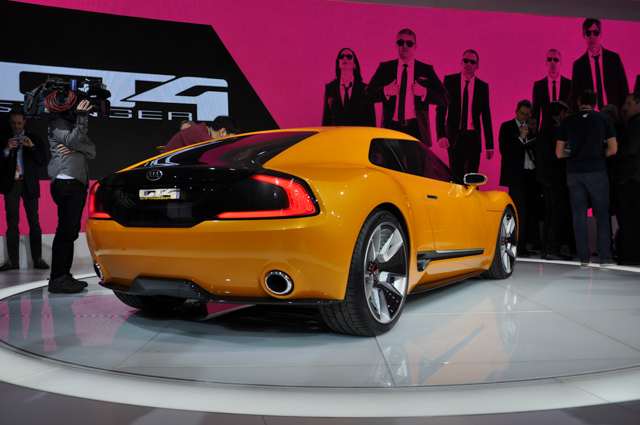 The basics--2+2, rear-wheel drive sports car--don't quite communicate the GT4 Stinger's attitude. It's low-slung, muscular and unlike anything we've come to expect from Kia. This concept takes inspiration from previous Kia concepts like the GT and Track'ster, as well as Kia's racing cars. Kia's U.S. design studio was allowed to go wild with a performance concept, and the GT4 Stinger is the result.
 The design mixes a little bit of Corvette with a little bit of Lancia Stratos, as well as hints of several other classic sports cars, into a shape that's unique and original. The vertical headlights and broad grille are pure Kia, however. It looks like a Hot Wheels car come to life. A blacked out rear panel blends with the glass of the rear window, emphasizing the fastback loo, and wide fenders provide a Coke-bottle shape.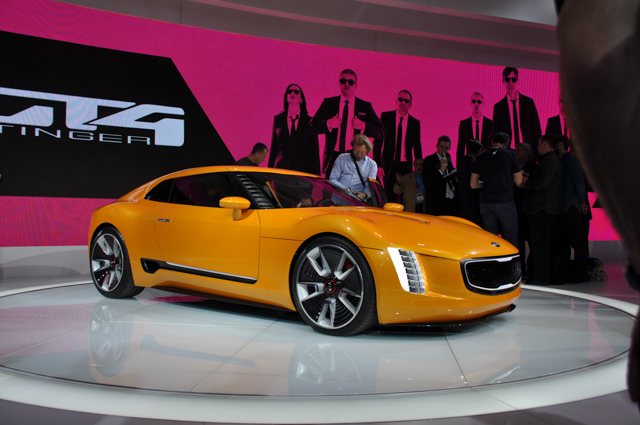 The minimalist interior looks like a traditional sports car's interior, but look closer—it's "naked," using painted metal surfaces instead of interior trim, to save weight. Pull-straps open the doors instead of handles, and there's no sound system. The GT4 Stinger's interior maintains a finished look, unlike many stripped-down sports cars.
There's a 315-horsepower engine under the hood, and of course there's a manual transmission. Brembo brakes are visible behind massive wheels. This is an automotive toy, but it's a serious toy.
Does the GT4 Stinger hint at a sports car in Kia's future? There's no telling at the moment; this isn't Kia's first sporty concept, after all. Perhaps the Korean manufacturer is just making sure we're warmed up to the idea. If this car is any indicator, the world will probably welcome the idea.