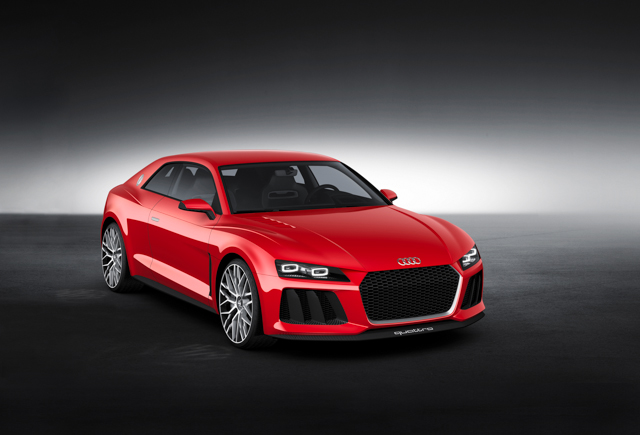 Following up on the sexy Sport Quattro concept that debuted at Frankfurt this year, Audi's got an enhanced and more powerful version coming to the Consumer Electronics Show (CES) in Las Vegas this week. The Sport Quattro Laserlight concept suggests that Audi's moving closer to an actual production vehicle with the Sport Quattro Concept's burly looks and athletic stance.
Strongly influenced by the classic Sport Quattro that put Audi on the rally-racing map in the 1980s and cemented the marque's reputation as an all-wheel drive pioneer, the Sport Quattro Laserlight concept is a brilliant red coupe with short overhangs and a wide body. The dual headlights feature LED and laser lighting for low and high beams, respectively. The laser-powered high beams provide about twice the range of LED high beams. The family single-frame grille keeps the Sport Quattro Laserlight's face familiar, while the strong, dramatically sloped C-pillar is reminiscent of the classic car. Carbon fiber sill extensions and trim panels give it a purposeful look. The interior is similarly purposeful, with ancillary controls designed for simplicity and lightness.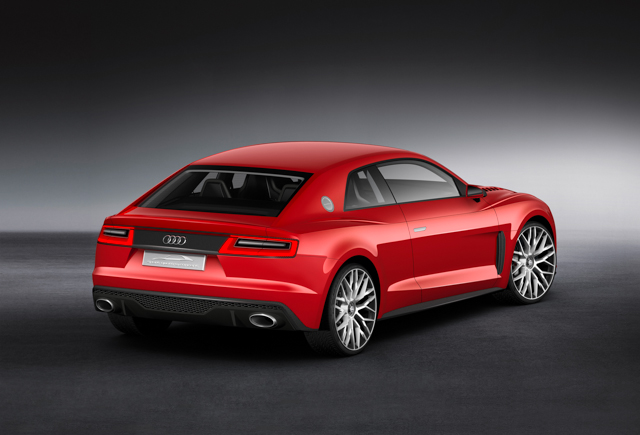 The Sport Quattro Concept shown in Frankfurt was envisioned as a hybrid, and the Sport Quattro Laserlight follows that trend, with an even more powerful 4.0 liter V8-based plug-in hybrid system. Total output is up to 700 horsepower, and it's sent to all four wheels through an eight-speed tiptronic automatic transmission. Sport, Hybrid and EV modes are available for maximum performance or efficiency. Audi reports a 0-62 mph sprint of 3.7 seconds and a 189-mph top speed.
We've got our fingers crossed that Audi chooses to bring this one to life some day soon.