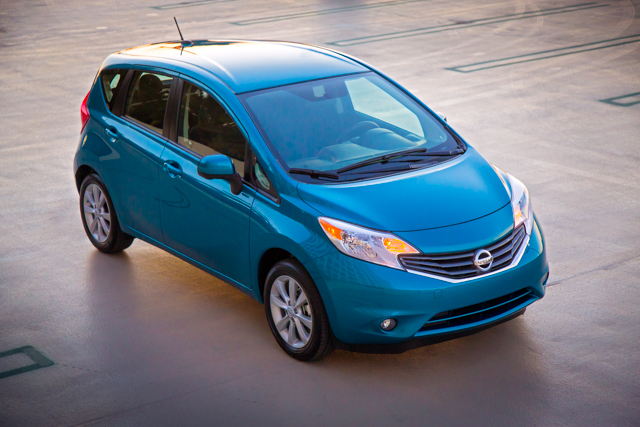 Are young buyers really losing interest in new cars, or is it just that they can't afford
them? Hoping that the downturn in sales among the under-35 demographic is caused by the
latter, Nissan (and many other manufacturers) has turned its attention to improving the curb
appeal of its entry-level products. The Versa is the smallest Nissan on this side of the
Pacific, and the second-generation model is smoother and more grown-up than ever before.
When it debuted in 2006, the Versa was larger than the other micro-compacts from Honda and
Toyota, but shared their plain-Jane styling and rather austere interior appointments. The
Versa avoided feeling cheap--but not by a large margin. That's a thing of the past; the new
Versa feels much more solid, and the improvements in ride and interior materials make a huge
difference.
Nissan has planed the sharp edges off of the second-generation Versa, and it feels like a
more grown-up version of the "big" little car. The exterior styling is similar to before,
but less slab-sided. The Versa's one-box shape is tweaked with a cool V-shaped character
line that cuts through the body from rear to front and back again, emphasizing the rear
wheel arch. The hood stands slightly more upright, with a full-width grille and jeweled
headlamp enclosures mounted high, keeping the Versa distinctly wedge-shaped. Invisible
aerodynamic tricks, including an active grille shutter and underbody design that tucks the
suspension components up out of the airflow, provides an added edge in keeping fuel economy
good. In Versa parlance, "Note" refers to the five-door model. No, we're not sure why,
either.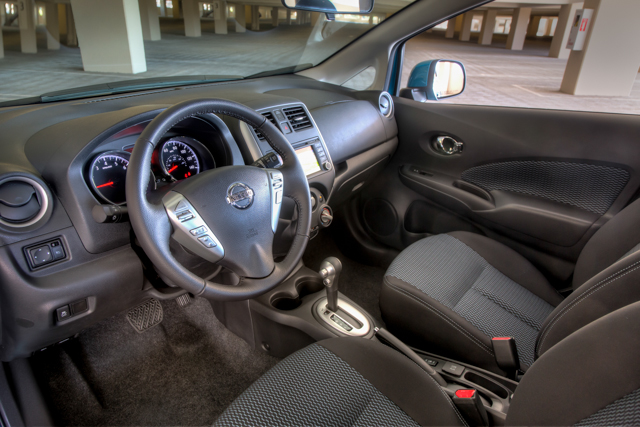 The seating is tallish and comfortable, with plenty of headroom for taller drivers. It's a
just-right driving position. The Versa's interior materials also look and feel great.
Nissan's smallest has stepped away from the gray-plastic-box school of design, offering
interesting upholstery colors and an instrument panel with soft-touch materials and handsome
sculpting. It's a simple design that incorporates conveniences like a dual glovebox and a
USB port for smartphones. At the rear, the cargo area features an adjustable load floor.
The Versa's also got several surprise-and-delight options available, including heated seats,
a navigation system and Nissan's Around View Monitor, which provides 360-degree camera views
when backing up. The NissanConnect infotainment system is also available, adding a larger
touch screen, hands-free text messaging, streaming Internet audio and Google send-to-car
navigation assistance, which enables destinations to be located via Google on a computer and
then sent directly to the Versa's navigation system.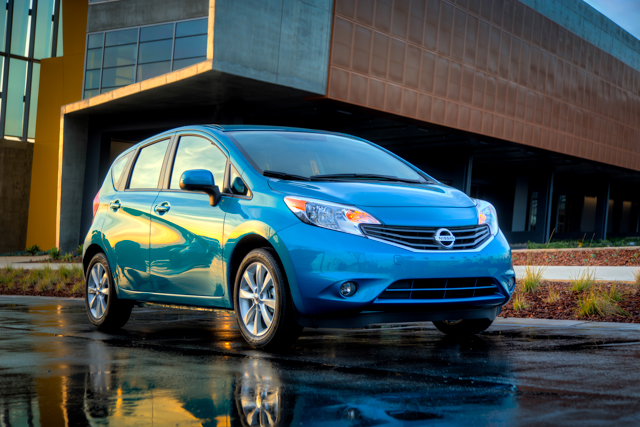 The 1.6 liter DOHC four-cylinder engine provides sufficient motivation, with 109 horsepower
and generally smooth power delivery. Dual fuel injection and variable valve timing keep the
torque curve flat. A choice of five-speed manual or continuously variable automatic
transmissions is offered. Nissan's CVT is a bit noisy, and the droning engine note takes
some getting used to. Get on the gas hard and the Versa makes an awful lot of noise,
perhaps more than is strictly necessary for the amount of acceleration that's being
delivered. The small-displacement engine returns fabulous fuel economy, naturally, with
freeway EPA ratings at 40mpg when equipped with the CVT.
The Versa always had a slight size edge over the Fit, Yaris and others, and it still feels
more substantial than those cars. The relatively long wheelbase contributes to this,
providing an already stable platform that the suspension makes the most of. With about 300
pounds trimmed out of the suspension, the Versa is still a flyweight, and crosswinds will
shove it around a little bit on the freeway, though Nissan's capable front-strut, torsion-
bar rear suspension keeps it stable at all times. The Versa isn't wobbly when tossed into a
quick corner, and it handles oppressive snowfall adeptly too, as we discovered this winter.
The new Versa's a well-rounded and pleasing driver, and it suggests that if young buyers
aren't interested in new cars, it's not because there are no good cars affordable enough for
them. Versa Note pricing starts at $13,990.