Hot rod Chevrolets at the SEMA show? Who would have guessed? Chevrolet has one of the longest histories with hot rodders and modifiers, dating back to the 1950s, but the brand's bringing a brace of vehicles to this year's SEMA show to remind everyone that there's more to the Bowtie brand than easily hopped-up smallblock V8 engines.
The range of customs for SEMA this year focuses on Chevy's passenger car lineup, in fact. Conceptual Spark, Sonic, Malibu and Impala models will grace Chevy's exhibit space, showing off a range of personalization and performance concepts.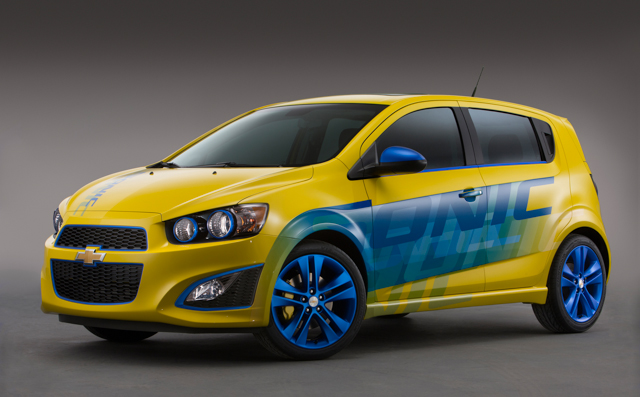 A trip of modified Sonic subcompacts highlights the versatility of Chevy's little five-door. The Sonic RS Concept is a performance vehicle, influenced by past Chevy high-performance vehicles, and it features an upgraded turbocharger, lowered suspension and upgraded brakes. The looks have been upgraded with eighteen-inch wheels and a monochromatic yellow body. At the other end of the spectrum, there's the Ricky Carmichael All-Activity Sonic. Modified by American Motorcycle Association champ and X-Games gold medalist Ricky Carmichael, this car features a unique body kit and Thule roof rack to go with its engine and suspension mods, as well as FOX Racing boardshort material for interior upholstery. The Personalization Sonic has been loaded up with Chevrolet Accessories products to show what's possible when one goes all-out with the add-ons.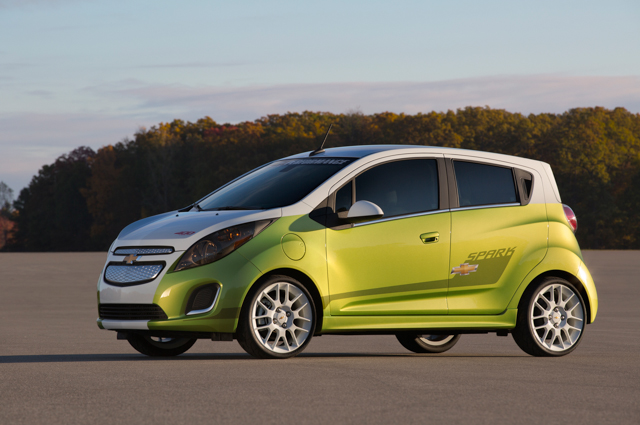 The Spark EV gets a performance boost too, in the form of the Spark EV Tech Performance concept. Reminding onlookers that its electric motor can unleash 400 pound-feet of torque in an instant, this Spark has beefed up axles and a remapped power-delivery system for even more acceleration. Chevrolet Accessories add-ons and a unique paint job give it that custom look.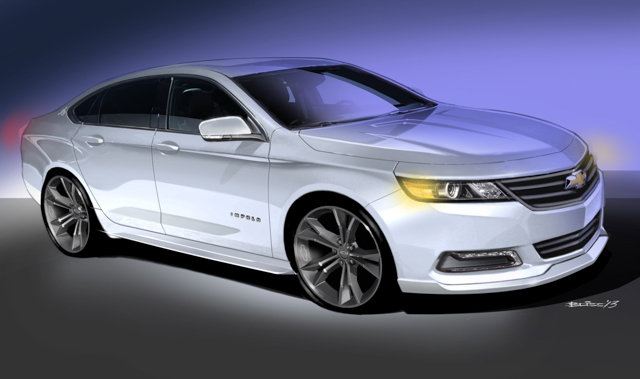 At the opposite end of the vehicle spectrum is Chevy's full-size Impala, which is represented by the Urban Cool Impala concept. Lowered and equipped with LED lighting and a ground effects kit, this Impala looks ready to roll on twenty-inch color-matched wheels. The interior sports piano black trim, unique leather seats and an eleven-speaker Bose Centerpoint Surround Sound system, and you might be surprised to learn that the last item is actually a production option on the newly upscale Impala.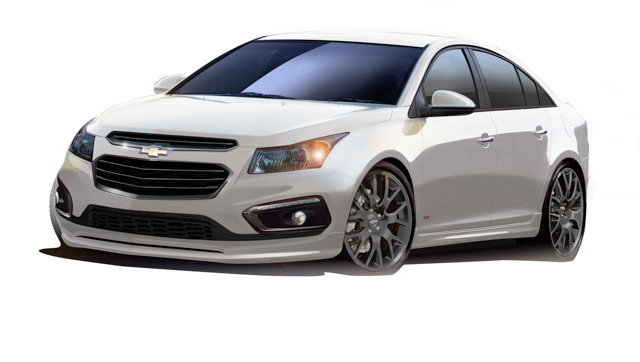 Chevy didn't forget about the Malibu and Cruze, either. The Malibu LTZ concept resurrects a classic sporty trim level's name and offers big nineteen-inch wheels, ground effects and a turbocharged engine with a Borla exhaust. The Cruze Diesel gets some personalization in the form of a modified front fascia and spoiler, Kicker audio upgrades and some cool ambient lighting.
All of Chevrolet's concepts will be on display at SEMA from November 5-8, in Las Vegas.
"Chevrolet's 2014 passenger car lineup is the strongest and most competitive in the brand's history, offering customers a wide range of great-looking, great-driving and well-connected choices," said Chris Perry, vice president of marketing for Chevrolet. "A five-year plan to completely remake Chevy's car lineup is resonating with customers, who are finding value in the performance, quality and technologies that complement their lifestyles."