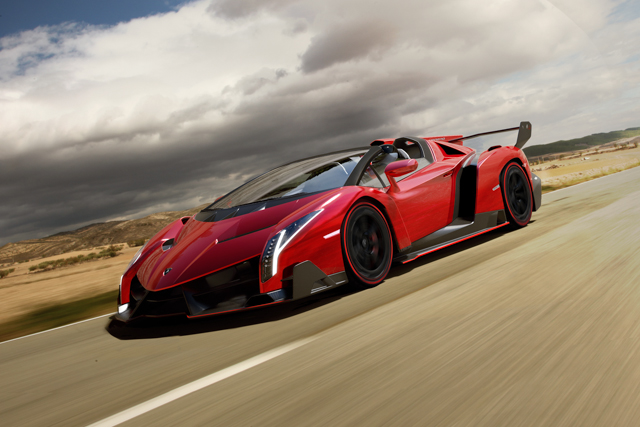 Lamborghini continues its range of ultra-exclusive exotics celebrating its fiftieth anniversary with the just-unveiled Veneno Roadster. Following the lead of the Veneno "racing prototype," the open-topped version is the real deal, and one of the most extravagant Lamborghinis ever (which is saying something) will go into production in 2014 with a 3.3 million Euro price tag.
Of course, "production" is a relative term, since Lamborghini only plans to build a maximum of nine Veneno Roadsters. Wild lines define the topless Veneno, which has no provisions for weather protection. The chassis has been strengthened with a rollover bar; otherwise, the car is all about the melding of Lamborghini's wild styling and aerodynamics. Stability is enhanced by downforce-producing lines. The arrow-shaped nose is designed to act as a wing, while the rear has been influenced by GT prototype racers. The Veneno Roadster features a completely smooth underbelly and a rear diffuser and splitter surrounding quad exhaust outlets. Engine compartment vents let heat escape and direct the air over the adjustable rear wing. Even the alloy wheels have been aerodynamically optimized, with a carbon-fiber ring around the wheel that acts as a turbine to funnel cooling air to the brakes.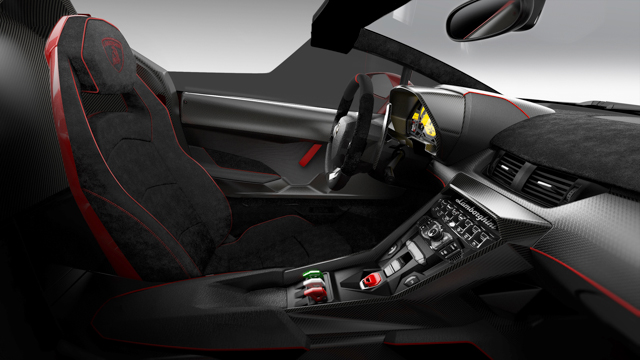 Based on a carbon-fiber monococque, the Veneno Roadster is relatively lightweight and street-legal. The carbon-fiber tub is visible inside the car, while composite seats and carbon-fiber mat fabric help to keep weight down. Curb weight is 3278 pounds.
The suspension is borrowed from Lamborghini's racing cars, and consists of pushrods with horizontal spring/dampers. The light weight and glued-down suspension are necessary, considering the Veneno Roadster's motivation. Powered by a 750-horsepower 6.5 liter V12, this car accelerates form 0 to 62mph in 2.9 seconds, with a 221mph top speed. The power is sent to all four wheels by a five-mode ISR automatic transmission.
Exotic-car spotters, keep an eye out: the Veneno Roadster will start hitting the world's greatest roads next year.