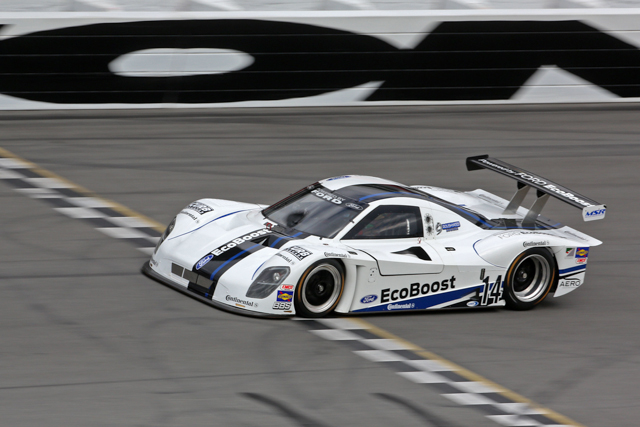 Ford's taking its EcoBoost engine racing next year, and if the early testing's any indicator, it's going to be a successful year. The new 3.5 liter EcoBoost V6 just set three new speed records at the Daytona International Speedway, breaking the old record which stood for 26 years.
The EcoBoost-powered Riley Technologies Daytona Prototype campaigned by the Michael Shank Racing team took to the track in Daytona for testing last week with Colin Braun at the wheel. The new racer set a new single-speed lap record of 222.971mph. The previous record of 210.364was also Ford-powered, set by Bill Elliott in a Ford Thunderbird stock car during Daytona qualifying in 1987.
Braun also set a new world speed record for ten miles from a standing start, and ten kilometers from a standing start, with runs of 210.018 mph and 202.438 mph, respectively. The Michael Shaw Racing team is awaiting FIA approval of the record-breaking times.
The twin-turbo powered EcoBoost car will be competing in the 2014 TUDOR United SportsCar Championship, starting with the Daytona Rolex 24 next January. For this record run, the car received extra tuning from Roush Yates Engines and special tires from Continental Tire. The car is already back in the shop getting prepared for road-course competition.
"It was a challenging day," said Braun afterward. "There was a lot of work put in by a lot of people to accomplish these records. The power in the new EcoBoost engine was incredible, and it was amazing how fast it came up to speed on the runs. Our first run this morning was 209 mph, and it was an edgy drive at that speed. I can only imagine how edgy it was for Bill Elliott doing those speeds in his Thunderbird stock car. But our crew kept working and adjusting on it, and it was a great feeling coming down pit road after the record runs and seeing how happy everyone was."