2019 Kia Sorento: Not Playing Games
Brian Armstead
Kia sure has come a long way. The brand used to supply small cars to Ford, with the forgettable Ford Festiva, circa 1988, as an example.
But as they say, that was then and this is now, and Kia is not playing around. From the smallest Kia Rio, to the top line luxury K900, Kia's got a car, CUV or SUV for you, and they all are heavily contented.
Consider the Rio, which starts at just $13,900. It's loaded with Kia's standard 10-year, 100,000 mile powertrain warranty; solar control glass, 5" touchscreen audio system with steering wheel mounted controls; power door locks; air conditioning; tilt steering; a full complement of airbags; anti-lock brakes; electronic stability control, electronic brakeforce distribution and hill start control, and much more.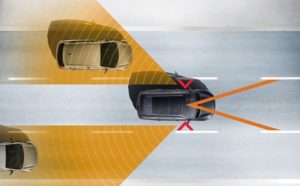 Each bump up in trim levels yields more content. The $18,400 EX trim level ticks all the boxes, including goodies like autonomous emergency braking, forward collision warning system, and 7" telematics touch screen system with rear camera.
And this is for a small sedan, which is not exactly all the rage these days. Sport Utility Vehicles, Compact Utilities, anything that hauls gear and sits high sells like hotcakes.
So for the 2019 model year, Kia has pulled out all the stops in upgrading the already impressive Sorento.
With a price increase of only $90 over the 2018 model ($25,900 increased to $25,990), and with many all-new features, it doesn't get much better than Sorento when shopping for a do-it-all SUV.
First and foremost, buy your cars based on safety. The 2018 Sorento, when equipped with Front Crash Protection and LED headlights, is an Insurance Institute for Highway Safety (IIHS) Top Safety Pick Plus, the highest rating possible. Expect the new 2019 model to perform just as impressively.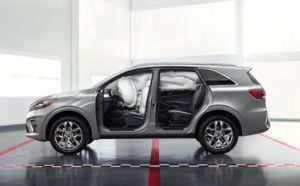 After you choose safety first, Kia handles the rest. With an upgraded 8-speed transmission, you'll save money on gas with more efficient gear shifting. Three row, seven passenger seating is now standard on all trim levels. Available wireless charging and Lane Keeping Assist are must have options, just choose the trim level where they are standard equipment. And if you live in areas that stay wet or frozen, available "Dynamax" All-Wheel Drive with Torque Vectoring Control can literally pull you out of all but the most severe weather conditions.
Improved content aside, the look and feel of the new Sorento says "luxury." With redesigned front and rear fascias, coordinated two-tone leather seating and trim (depending on trim level) and even a stitched dashboard are reminiscent of a certain hyphenated name luxury brand from Germany.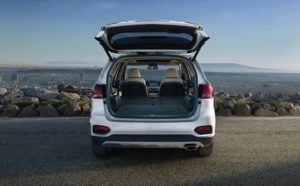 Remember Drake's hit song "Started from the bottom now we here?" Well, Kia reliability and customer satisfaction used to be a perennial bottom feeder in J.D. Power satisfaction surveys; now Kia lives in the top three of the rankings. 
Take that hyphenated name luxury brand from Germany.  Kia is in the game to stay.◊