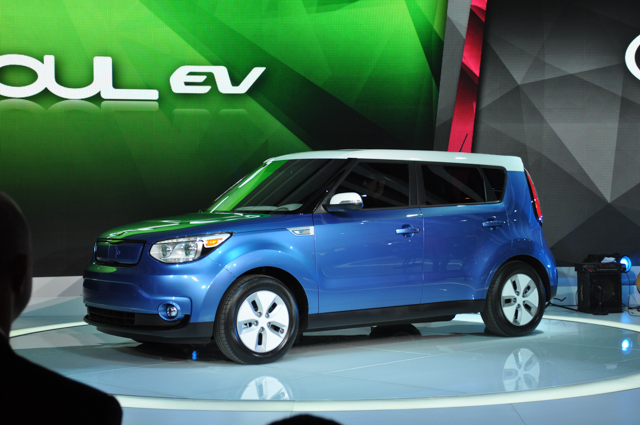 Kia's announcement that it would field a battery-powered Soul for 2015 seemed ambitious, but here it is, sporting a MINI-like contrasting roof and no gasoline engine to speak of. The all-electric Soul rolled onto the stage in Chicago in production-ready trim, and goes on sale this fall in California and Oregon. New York and the east coast will follow in 2015.
So what's under the hood in place of the four-cylinder engine? An 81.4 kW liquid-cooled AC synchronous permanent-magnet electric motor producing 109 horsepower and 210 pound-feet of torque, that's what. The high-efficiency 27 kwh lithium-ion polymer battery from which it draws its power is compact, and doesn't intrude upon interior space.--the car only loses about 9% of its cargo capacity to the battery. The Soul EV's range is 80-100 miles. Regenerative brakes help to keep the batteries topped off, and the Soul EV is front wheel drive. Charging is dealt with via a standard plug, of course, and Kia will offer a range of home charging stations from Bosch, Leviton and AeroVironment.
The Soul EV is more stylish than the average electric vehicle, thanks to the boxy-chic look of its parent vehicle. LED headlights and taillights are standard, as is the two-tone styling and a revised grille-less face that includes a charging port. Lightweight wheels are unique to the EV. Three color combinations will be offered: blue with a white roof, white with a blue roof, and silver with a white roof.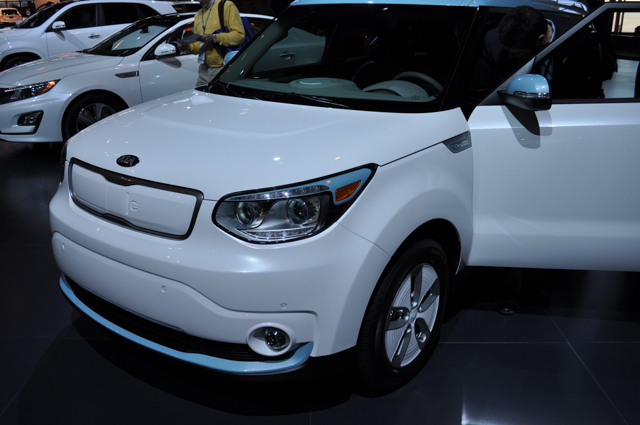 An interior restyled with environment-friendly materials makes perfect sense on a car like this. Standard equipment includes a navigation system, backup camera, high-efficiency climate control and and Kia's UVO with eServices infotainment system. UVO in the Soul EV features smartphone accessibility, similar to what's offered by BMW, Honda and others, with the ability to check on charging status and other vehicle information via phone. The Soul EV's heat or air conditioning can also be precharged while the car is plugged in, saving battery power.