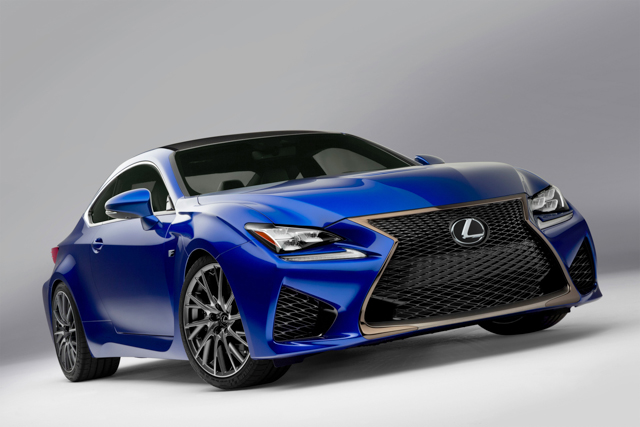 Lexus has pulled the wraps off of its mystery sports car, set to be unveiled at the North American International Auto Show next week, and as we guessed, it's the high-performance F version of the new RC coupe. The RC F takes Lexus' new coupe to a much sportier place, and considering Lexus' desire to compete with Mercedes and BMW it's almost sure to see production.
The RC Coupe was unveiled at the Tokyo Motor Show in November, and the RC F features active aerodynamics, a more aggressive face and functional air scoops and fender vents. The hood is bulged, hinting at a larger V8 engine underneath, and the rear spoiler is speed-activated. Big nineteen-inch wheels are unique to the RC F, and Lexus F's signature stacked-quad exhaust outlets are visible at the rear. The interior has a cockpit-style design, and Lexus installed a sport-oriented instrument panel, steering wheel and high-back sport seats. A choice of five leather colors for the upholstery is offered. The instrument panel's display changes according to driving mode, and the driver can customize its appearance including color and text size.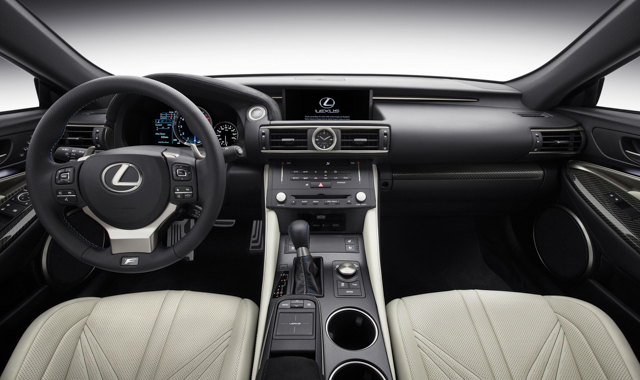 The RC F would fill a gap in Lexus' lineup, giving the marque a sports car that's more attainable than the LF-A, as well as improving the staid brand's performance credibility, assuming the V8 under the hood is pumped up enough to enable the car to hang with the cars with "M" and "AMG" badges. Lexus has given out photos and design details of the RC F, but the mechanical and production details will have to wait until the press conference next week. Until, enjoy the sporty blue beast's svelte lines.