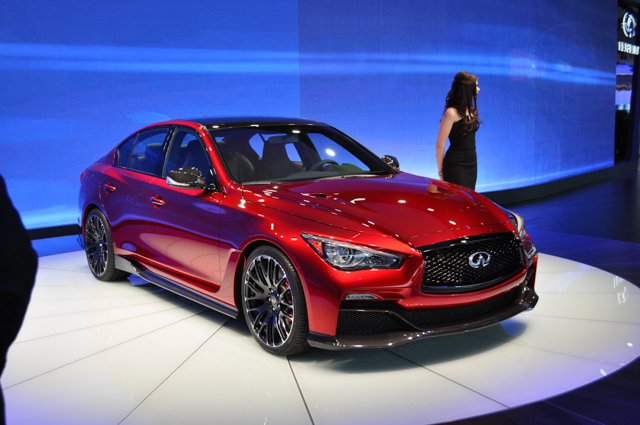 To keep eyes on the new Q50, Infiniti's produced what amounts to an in-house custom car, the Eau Rouge. Looking like the new Q50 on steroids, the Eau Rouge hints at a higher-performance version of Infiniti's new sedan coming some time in the future.
Named for an infamously difficult corner on the Spa racing circuit that "demands bravery," the Eau Rouge features a visibly bulged hood, massive blackout wheels and larger air intakes up front. Cool rocker panel aerodynamics are similar to the underbody panels seen on many open-wheel racers, and at the rear there's a dual exhaust with an F1-style rear diffuser. The Q50's lines are made just a bit more aggressive by the Eau Rouge's liquid red paint and extravagant curves. The interior features red carbon-fiber trim and paddle shifters.
The Q50 is on sale now, and Infiniti reports brisk sales. The new midsize sport-luxury sedan is a curvy, muscular beast, powered by a 3.7 liter V6. The Eau Rouge hints strongly at a higher-performance model designed to compete with the BMW M3 and others. Infiniti executives didn't announce any specific plans, but made it clear that a car like the Q50 Eau Rouge could see production, if a suitable engine can be found somewhere in Infiniti's sport and racing programs.