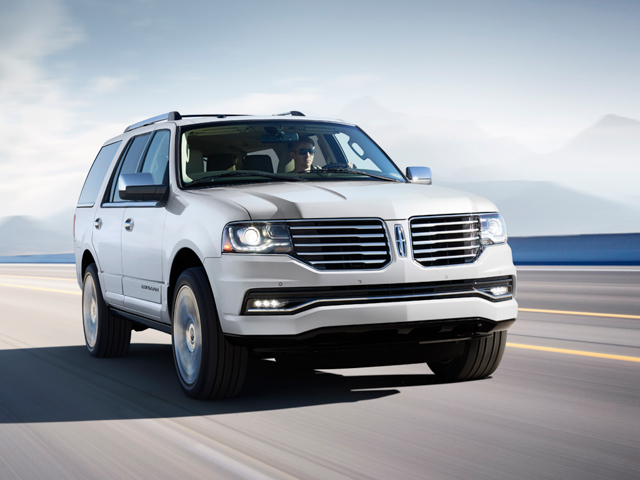 While making dramatic improvements to its automotive lineup with a bevy of efficient EcoBoost engines and newly luxurious styling, Lincoln seems to have forgotten its full-size SUVs. The Navigator has languished for several years, its development apparently stalled after a lifetime of living in the Cadillac Escalade's shadow. For 2015, the Navigator benefits from a bit of much-needed attention and a new style that Lincoln hopes will get it back on the radar.
There are plenty of good things about the Navigator, which has been relegated to the "they still make those?" ghetto since about 2010. It's still one of the few SUVs, luxury or otherwise, to feature a strong truck chassis underneath, so it's capable of real-world work. The 2015 update debuts at the Chicago Auto Show next month, and things have changed quite a bit.
Most notable is the change under the hood: the thirsty 5.4 liter V8 has been yanked, and replaced with a 3.5 liter EcoBoost V6. The new direct-injection turbocharged engine produces 370 horsepower and 430 pound-feet of torque, so there's no question that it's got the grunt to move this big vehicle around. A six-speed automatic transmission is standard, and the Navigator's fuel economy should improve dramatically.
Further improving fuel economy is an electronic power steering system with more direct action and less parasitic drain on the engine. The ride has been upgraded with Lincoln's Continously Controlled Damping active suspension. By "reading" the road conditions and adjusting the suspension's response accordingly, the Navigator should be able to rise above the truckish feel of its body-on-frame suspension. Rear- and all-wheel drive are available. There's an optional blind-spot monitoring system as well.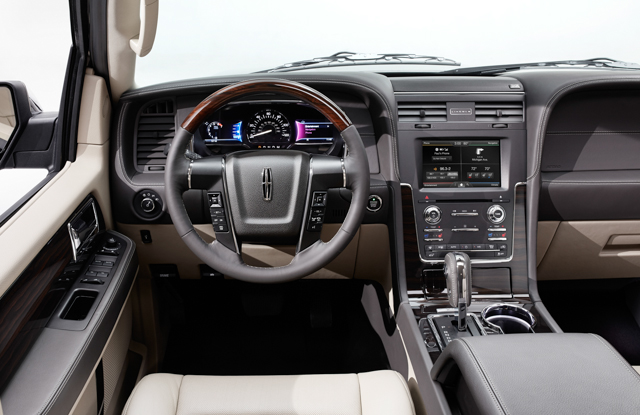 As a luxury vehicle, upgrades to the Navigator's hardware would mean nothing if they weren't matched by a style update. The Navigator's been reskinned with the new Lincoln family face, including a dramatic split waterfall grille and LED accent lights. There's now a power tailgate at the rear. New twenty-inch wheels are standard, and optional twenty-twos are also offered. The Navigator is still available in standard and extended-length models.
The interior sports influences from the new MKC, including the new family steering wheel. The Navigator goes above and beyond "premium," however, with a hand-wrapped leather dash and new wood trim that's shared with the luxury yacht industry. A choice of second-row captain's chairs or a bench is offered. Power-folding rear seats open up the cabin for cargo if needed. The new Navigator also brings the technology, with an updated version of SYNC and MyLincoln Touch that blends touch-screen controls with more traditional buttons for easier use. Updated keyless entry uses a proximity sensor to unlock the doors when the driver touches the handle, and goes nicely with the keyless entry.