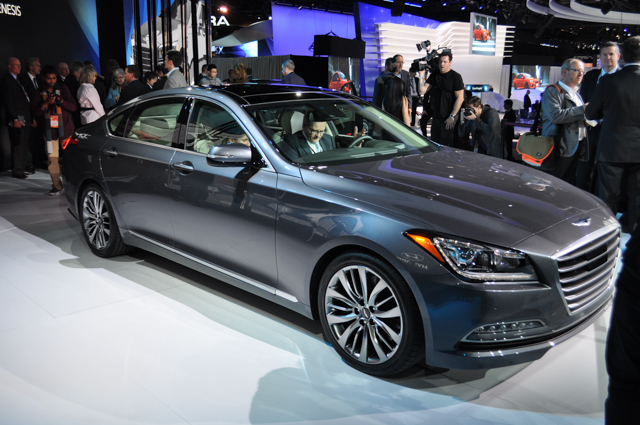 The Genesis was a big step forward for Hyundai, taking the manufacturer into new markets and indicative of the brand's rise in respectability. Now that it's a fully recognized player in the full-size, near-luxury market, the second-generation Genesis arrives for 2015 to cement Hyundai's position near the top of the market.
A new winged badge is affixed to a new, more expressive sedan that was strongly inspired by the HCD-14 concept shown last year. The grille is more rectangular and larger, giving the new Genesis a more authoritative face and a unique identity. The hood is longer than before, and Hyundai's kept the beltline crease that gave the Genesis an elegant look. A sleek greenhouse keeps the Genesis from looking too staid.
A new, stronger chassis and body are backed up by a new five-link front and rear suspension to provide an improved and more stable ride. Hyundai has also added an available all-wheel drive system. Engine choices still include the 3.8 liter V6 and 5.0 liter V8, and both engines have been tweaked for improved fuel economy. An eight-speed automatic transmission is standard.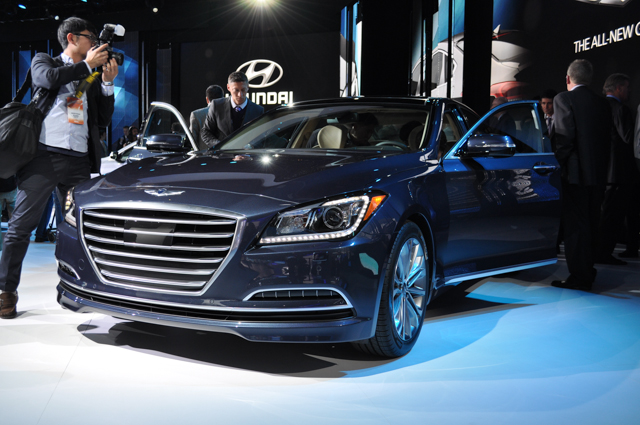 With state of the art underpinnings and a stylish exterior, all the Genesis needs is an impressive interior and amenities list. Hyundai's taken care of that with a lane-keeping assist, head-up display and other active safety systems packaged into what Hyundai calls the Sensory Surround Safety system. And automatically-opening trunk is also available. Real wood in a choice of finishes, real aluminum trim and leather are all present in the well-designed cabin. Hyundai also includes BlueLink with Google Glass connectivity and a new navigation system. Harman's Lexicon provides the available 900-watt sound system.