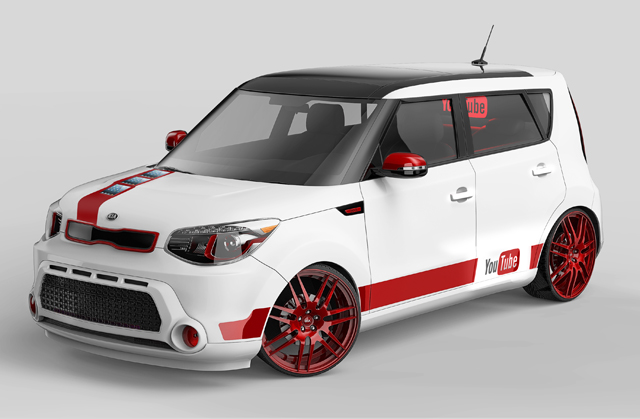 The first ever YouTube Awards, sponsored by Kia Motors Corporation, will take place live on Sunday November 3 in New York City. Fans all over the world can vote for their favorite videos in six different categories. The nominees were announced on October 22.
The live event will be hosted by comedian/musician Reggie Watts and actor/musician Jason Schwartzman in partnership with Kia. The executive producers are VICE Media and Sunset Lane Entertainment. The ever expanding line up of great performers includes Arcade Fire, Avicii, CDZA, Earl Sweatshirt, Eminem, Lady Gaga, Lindsey Stirling, M.I.A. and Tyler the Creator.
Nominees represent the videos and artists with the highest amount of YouTube user engagement by counting comments, likes, shares, subscriptions and views. The data came from the past 12 months gathered via YouTube.
Each category can now be voted upon by fans when they search YTMA on YouTube or visit youtube.com/music awards. All you have to do is share your favorite nominated videos (which would be people from Detroit, such as Eminem, am I right?) across Facebook, Google+ and Twitter.
Nominees and categories for the first YouTube Music Awards are as follows:
Video of the Year: These nominees signify the videos that have had the highest amount of fan engagement this year:
Selena Gomez, "Come & Get It"
One Direction, "Best Song Ever"
PSY, "Gentleman"
Miley Cyrus, "We Can't Stop"
Macklemore & Ryan Lewis (feat. Mary Lambert), "Same Love"
Lady Gaga, "Applause"
Justin Bieber (feat. Nicki Minaj), "Beauty And A Beat"
Girls' Generation, "I Got A Boy"
Demi Lovato, "Heart Attack"
Epic Rap Battles Of History, "Barack Obama vs. Mitt Romney"
Artist of the Year: These reflect YouTube most lauded acts. These cover the most often liked, shared, subscribed to and watched artists of 2013.
Rihanna
PSY
One Direction
Nicki Minaj
Macklemore & Ryan Lewis
Katy Perry
Justin Bieber
ERB
Eminem
Taylor Swift
Response of the Year: Represented here are the best response videos, fan remixes or parodies. They are the favorite "unofficial" fan made videos of this past year, based on what fans liked, shared or watched.
Walk Off the Earth (feat. KRNFX), "I Knew You Were Trouble"
ThePianoGuys, "Titanium / Pavane
Lindsey Stirling and Pentatonix, "Radioactive"
Jayesslee, "Gangnam Style"
Boyce Avenue (feat. Fifth Harmony), "Mirrors"
YouTube Breakthrough: Nominees signify who has experienced the largest amount of growth in 2013, these are music's newest breakout acts.
Rudimental
Passenger
Naughty Boy
Macklemore & Ryan Lewis
Kendrick Lamar
Innovation: Selected by an international panel comprised of creators and artists, this category represents the best of the innovative ingenuity of music videos on YouTube.
Toro Y Moi "Say That"
DeStorm, "See Me Standing"
Bat For Lashes, "Lilies"
Atoms For Peace, "Ingenue"
Anamanaguchi, "Endless Fantasy"
There will be five music events streaming around the world leading up to the live celebration at Pier 36 in New York City. These events located in London, Moscow, Rio, Seoul and Tokyo begin on November 3rd at 5am ET. Tune in at YouTube.com/YouTube.