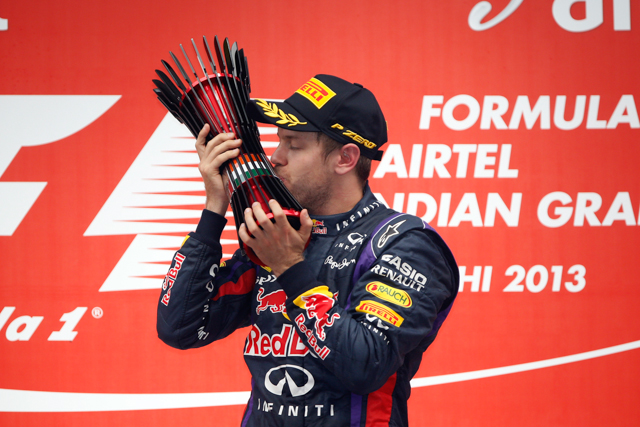 After dominating the 2013 season, Sebastian Vettel and the Infiniti Red Bull Racing team have clinched the Formula One World Championship with three races left in the season by winning the Indian Grand Prix. The victory is the fourth consecutive championship for Vettel and Infiniti.
Vettel, 26, becomes the youngest four-time champion in history. He has won ten of the nineteen races on the calendar this season, and that plus podium finishes was enough to put Vettel and Infiniti Red Bull Racing on top. Infiniti has capitalized on its relationship with Formula One, naming Vettel its Director of Performance and getting his input during the development of the new Q50 and Q30. Infiniti Red Bull Racing has also taken on a consultancy role to help apply racing lessons to road vehicles.
The only drivers previously to win four consecutive world championships are Juan Manuel Fangio and Michael Schumacher. Alain Prost is the only other four-time winner.
"Sebastian and Infiniti Red Bull Racing both represent perfectly our brand's vision of performance, precision, passion and provocation," said Johan de Nysschen, President of Infiniti. "It is these traits that led to us deepening our partnership with them at the beginning of the year and we are proud to have played a major role in their incredible season."
Vettel added, "To join people like Prost, Fangio and Michael is unbelievable. I think this is one of the best days in my life so far."
The rest of the season will see a battle for second place between Mercedes and Ferrari in the constructors' championship, and between Fernando Alonso and Kimi Räikkönen in the drivers' championship.