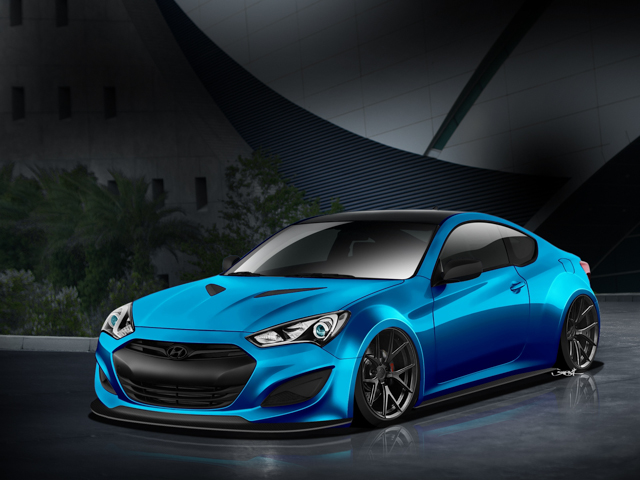 Who's going to have more cars at SEMA--Hyundai or Chrysler? The sneak previews just keep coming, and now it's been revealed that renowned colorist John Pangilinan is returning to contribute to the Hyundai camp for this year's Specialty Equipment Manufacturer Association show. Pangilinan will apply his trademark brilliant color to the new Genesis Coupe. The SEMA show in Las Vegas this November will see the debut of the JP Edition Genesis Coupe, whose most notable feature is its striking custom color, called Atlantis Blue.
Pangilinan has also made some changes under the hood, adding "cost-effective" modifications to bosot the power. An AEM cold-air intake, ARK performance exhaust and friction-reducing Lucas Oil are among the upgrades. A lowered suspension, aftermarket sway bars and a strut bar have also been added. Nineteen-inch MORR wheels and Brembo brakes help to keep the car planted to the road.
The body has been modified with wide fender flares and a carbon-fiber splitter, as well as side and rear carbon fiber trim. Custom headlights are also used. The Atlantic Blue Metallic paint was created by BASF.
The front seats have been changed out for Recaro Cross Sportster models with suede trim, while racing harnesses and a GoPro camera mount are also added. Of course, there's a powerful sound system as well, using Alpine and Scosche components.  All of the parts that have been added to this car are currently available in the aftermarket.
Hyundai has teamed up with Pangilinan before, and the upcoming JP Edition Genesis Coupe will probably not be the last.  "John Pangilinan is really a creative genius in color development, especially in his ability to blend color with specific vehicle concepts like the JP Edition Genesis Coupe," said Scott Margason, director of product planning with Hyundai Motor America. "We're excited to see the final concept turning heads in our booth at the SEMA show."