Sunday's Grand Prix of Houston was marred by a serious last-lap accident that send four-time IndyCar Series champ and three-time Indy 500 winner Dario Franchitti to the hospital with fractured vertebrae and a concussion as well as injuring a dozen fans in the stands at the Reliant Park racing course.
On the final lap of the race, 11th place Franchitti and 7th-place Takuma Sato came together on the exit of Turn 5, one of the fastest points on the track. Franchitti's car was launched into the fence and torn apart, spraying the crowd with debris. The car rebounded back onto the track. E.J Viso's car also collided with Sato's spinning vehicle. The race stayed under yellow after the crash, with Will Power declared the winner.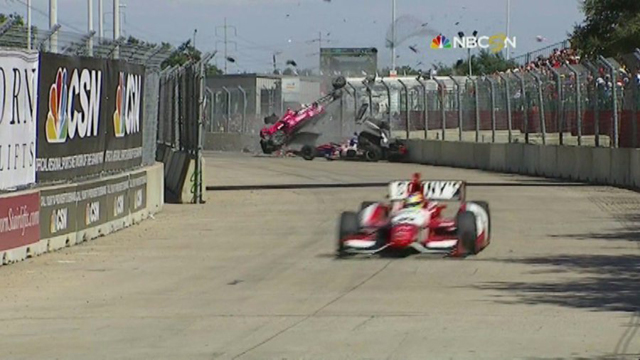 According to AP and ESPN reports, Franchitti suffered two fractured vertebrae, a broken ankle and a concussion. He was taken to Memorial Hermann-Texas Medical Center and held overnight, and posted to his fans on Twitter later that evening to let them know he was on the mend. Doctors reported that Franchitti required only a minor surgery to temporarily stabilize the ankle, and Target Chip Ganassi Racing reported on Monday that he would spend a few days in Houston before flying to Indianapolis for followup evaluation. Thirteen fans and a track official were also injured in the crash. Most of the injuries were reported as minor, caused by the large amount of debris that passed through the fence, though two fans were also taken to Memorial Hermann-Texas for treatment.
The wreck was a sobering one that resonated with many IndyCar drivers, and raised questions about the safety of IndyCar's catch fences. The crash itself was markedly similar to the 2011 incident that killed Dan Wheldon in Las Vegas. Race winner Will Power was seriously injured in the 2011 Las Vegas crash as well. Several drivers and team owners said that the crash reminded took them back to Wheldon's crash.
In a press release issued by Target Chip Ganassi Racing, Franchitti said, "Thank you to everyone for all the well wishes. They mean a lot to me. I would also like to send my best to all the fans involved in the accident and hope that everyone is alright." Franchitti's teammate Scott Dixon also visited some of the injured fans in the hospital.