2021 Subaru Crosstrek Sport
Safety and Go Anywhere Capability at a Value Price
Brian Armstead
I love the occasional trips I've taken to the Northeast and Northwest parts of the United States. It's hard to beat their sheer natural beauty of towering pines; majestic hills and mountains; and lakes, rivers and springs that sing a song when you are fortunate enough to be on them in a boat or kayak, or beside them just enjoying their beauty.
But the right east and left west present problems that ordinary vehicles may not be capable of overcoming. For the right coasters, winters in the Northeast can be brutal, with multiple feet of snow and icy, pockmarked roads. In the Northwest, rainy weather, unpaved roads, and high elevation icing can be the norm.  But as I used to drive in both areas on myriad press events, there was one common denominator that's permanently linked my mind to both regions – Subaru.
Yes, the "other" brand from Japan has quietly and very effectively built a reputation for being the car or small/medium SUV to buy when the weather presents significant challenges. Driving in either region, you see Subaru's everywhere. And for good reason. Every Subaru sold in this country (except the BRZ Sportscar) has Subie's renowned "Symmetrical" All-Wheel Drive system.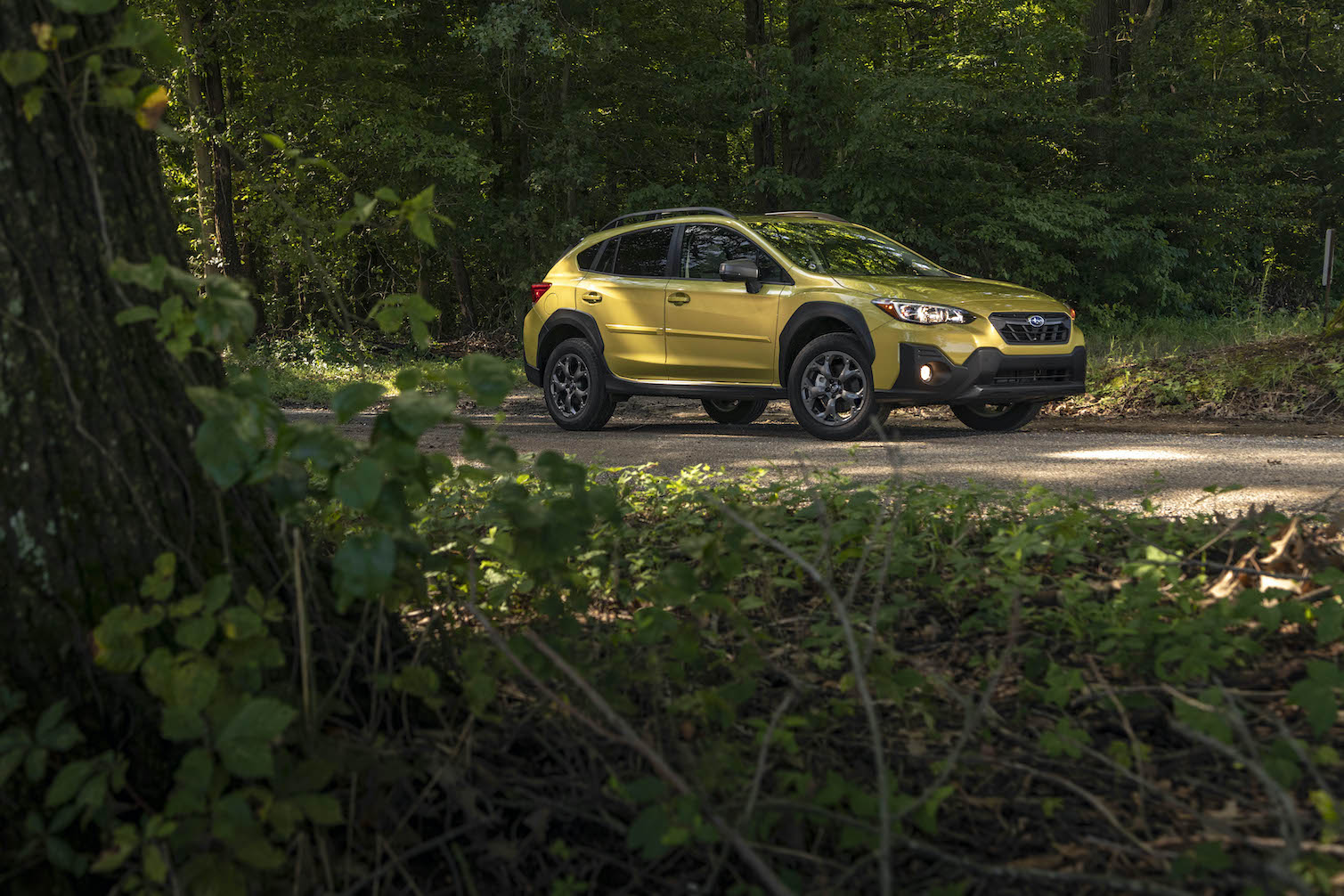 Symmetrical All-Wheel Drive (SAWD) is a full-time all-wheel drive system that consists of a longitudinally mounted boxer engine coupled to a symmetrical drivetrain with equal length half-axles. The boxer engine is mounted low in the chassis to lower the center of gravity, and even things as simple as washer and coolant tanks are mounted low with long filler tubes to enhance the lower center of gravity. Couple SAWD with Vehicle Dynamics Control, Incline Start Assist, Electric power assist steering, active torque vectoring and dual function X-MODE with hill descent control turned my tested Crosstrek Sport into a legitimate threat to Mother Nature's supremacy no matter the weather.
The idyllic, fall setting in rural Middleburg, Virginia was the perfect locale for a Coronavirus conscious media evaluation of the updated 2021 Crosstrek Sport. The roads on our drive route were super curvy, cementing the fact that this Subaru and all of their other models with full time AWD, can also deliver a ton of fun when the roads are smooth and bone dry.
New for 2021 is more power via a 2.5-Liter, 182 horsepower "Boxer" four-cylinder engine. If you are not a fan of the unique "rumble" sounds the some Subaru boxer engines make, you'll be pleased to know that the new Crosstrek engine has equal length headers that eliminate this unique sound. Are you a fan of the sound? Then buy the hot rod Subaru WRX or purchase and install unequal length headers where the exhaust gas has to move through pipes of different lengths, and the sound produced rumbles in a very authoritative manner.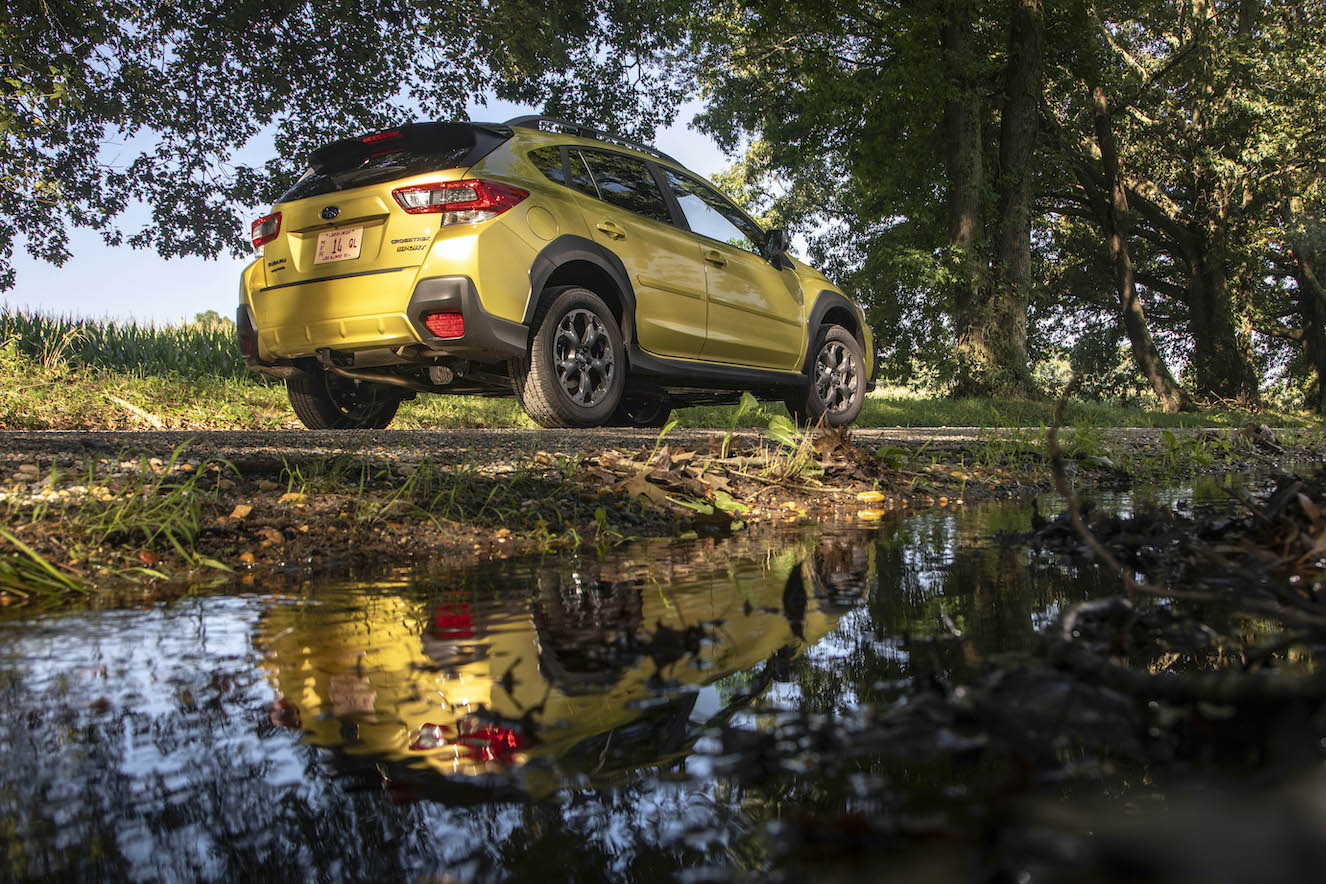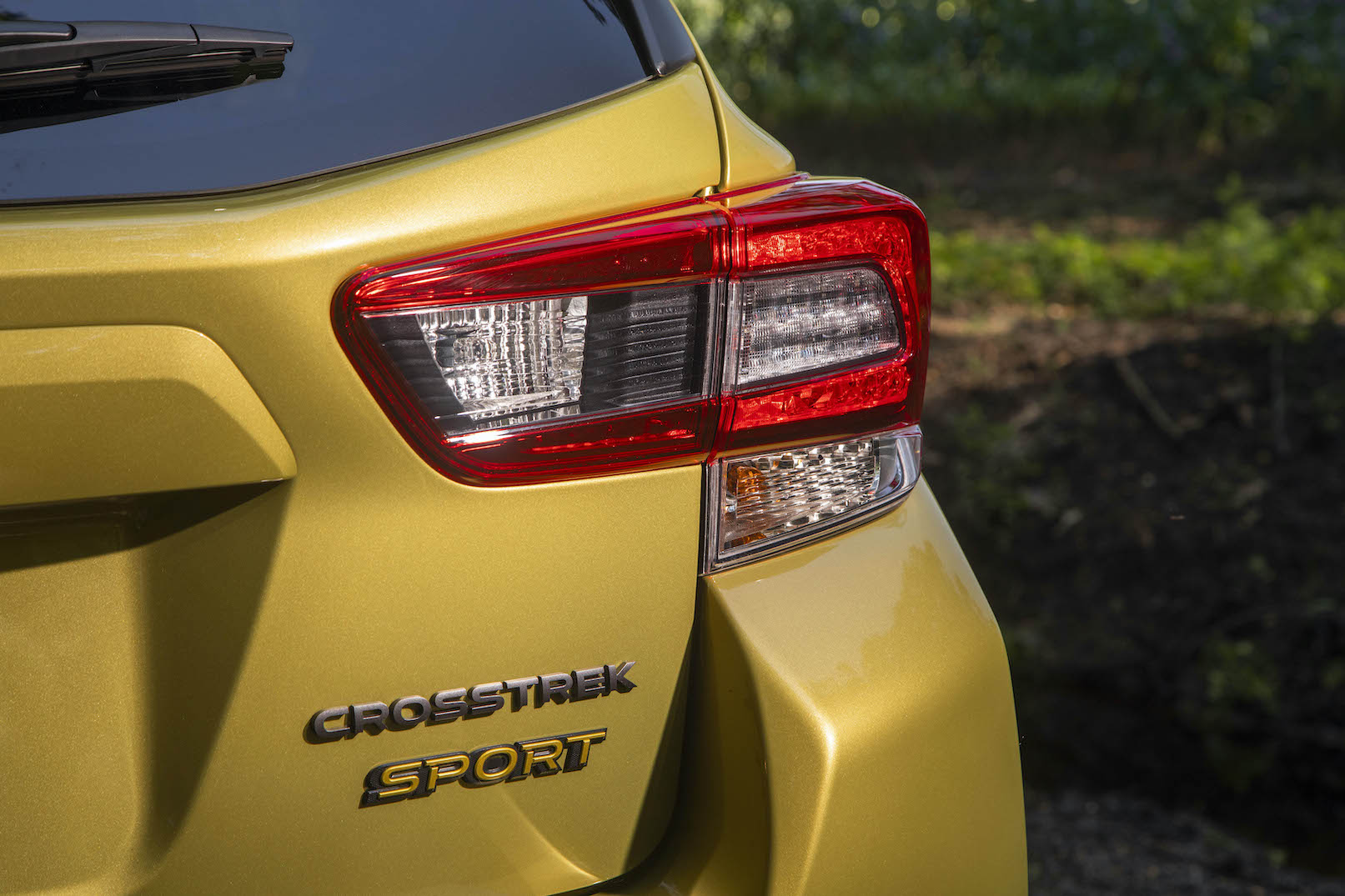 Power gets channeled to the SAWD system through Subaru's Lineartronic Continuously Variable Transmission (CVT), which is so smooth in its operation, you'll forget about Subaru's first production attempt at a CVT in the diminutive Justy, which featured a CVT that seemed to wind up and release like a rubber band. There's no rubber band action in this new unit, and I forgot it even had a CVT as I motored along our two-hour test route.
I did notice however that Subaru has stepped up their interior game quite a bit. No, you won't confuse the Crosstrek Sport's interior with some competitors with higher levels of creature comforts, but you will notice higher quality materials throughout. I especially like the water repellant, super durable "StarTex" upholstery, which is perfect for Subaru's commitment to lifestyle motoring. Sport trim interior also features yellow stitching on the seats, the leather-wrapped steering wheel and dashboard. Gunmetal and nicely executed faux carbon fiber trim, and a color LCD digital cluster with yellow metallic finish trim rings are examples of a new trend for Subaru interiors.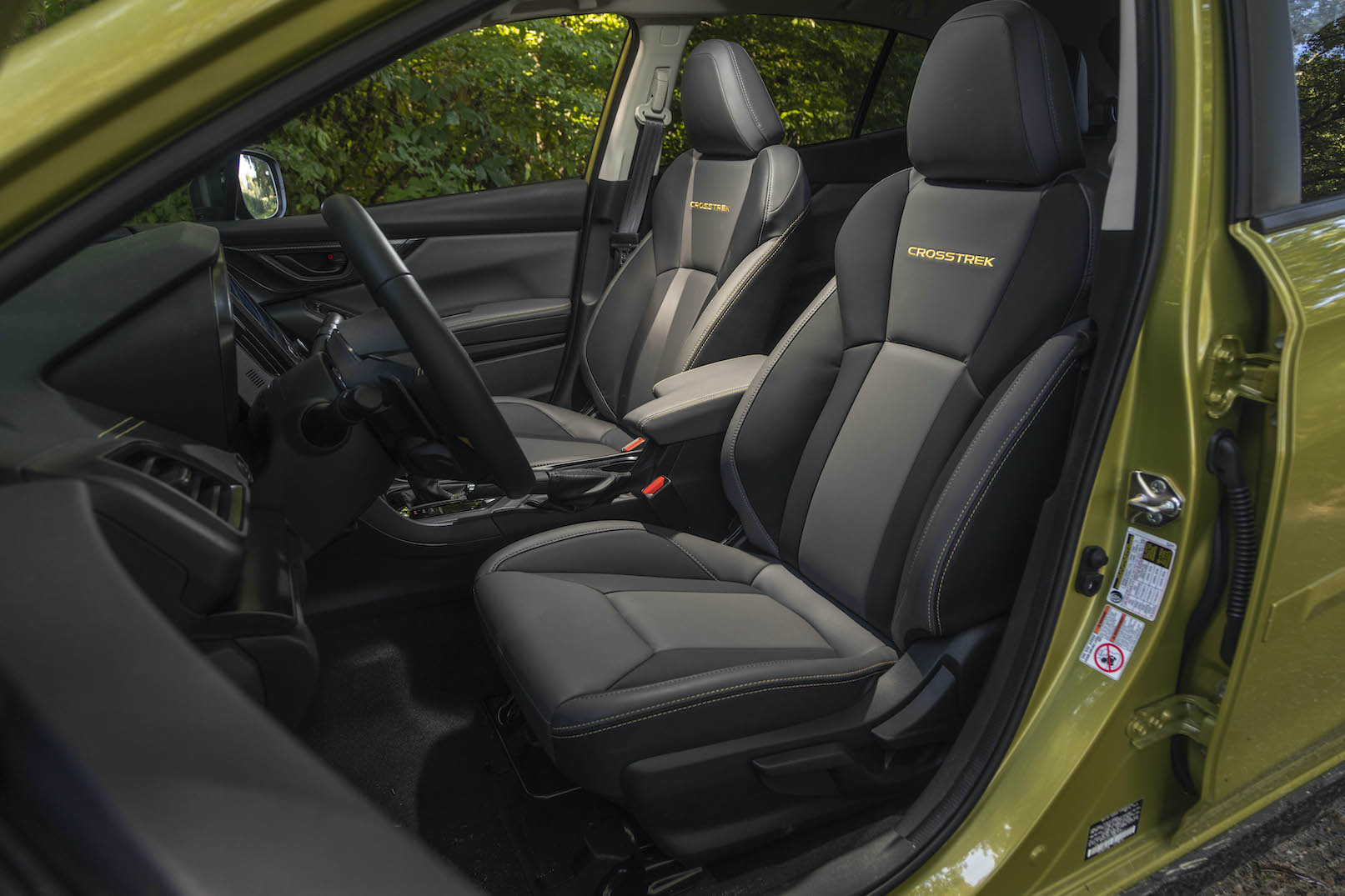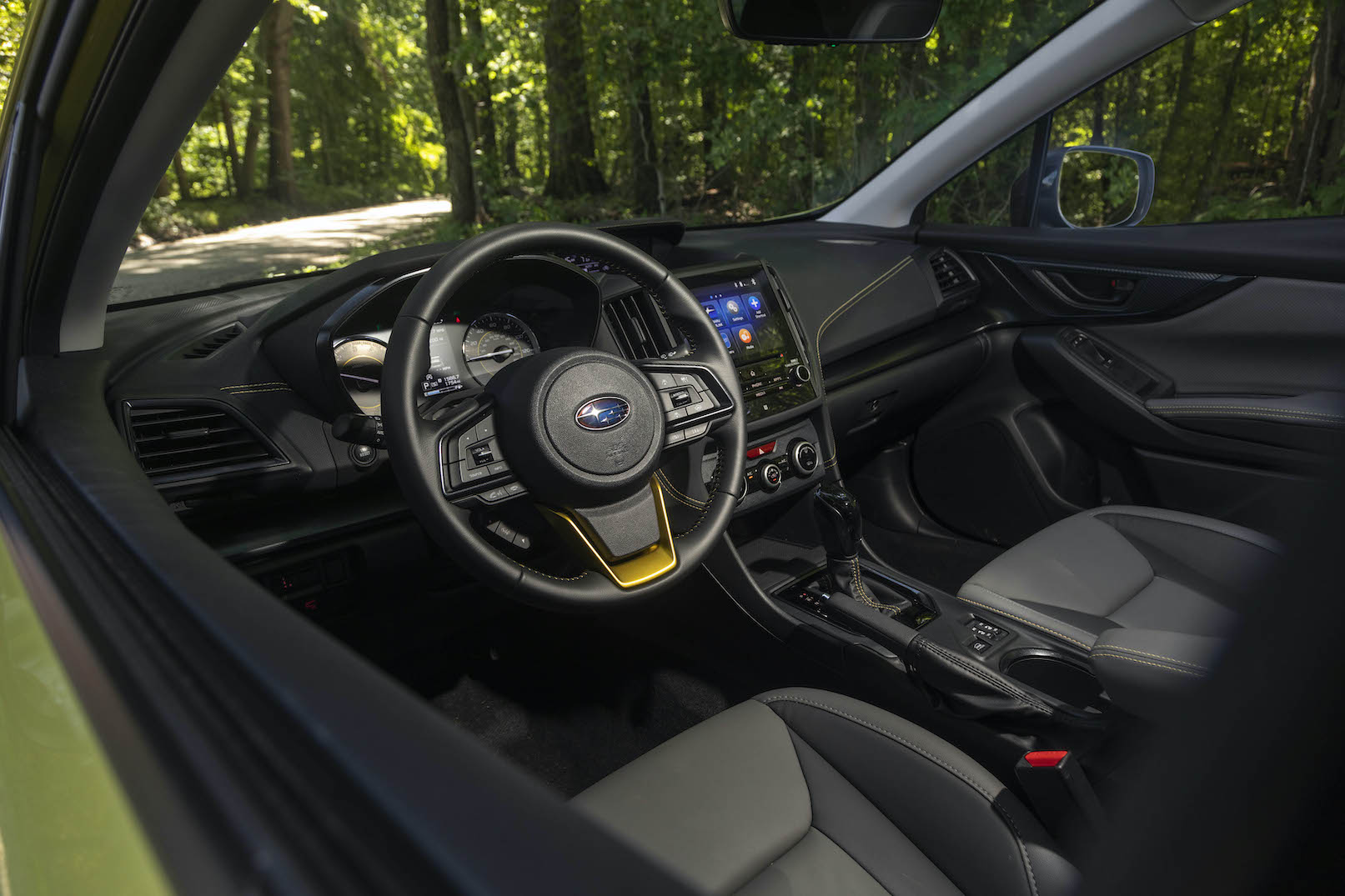 Crosstrek occupants are also treated to standard Automatic Climate Control, a STARLINK 6.5" multimedia Plus system that includes Apple CarPlay, Android Auto and STARLINK app configurations, and HD and SiriusXM Radio plus a rare CD player for us old heads who still covet the high quality sound of a properly mastered compact disc. Dual USB ports front and rear are bound to keep your passengers well charged for welcome road trips in this very comfortable Sport Ute.
The Crosstrek Sport's exterior also speaks of the lifestyle activities in the great outdoors with aero efficient styling and rugged-looking body cladding on the bumpers, side sills and wheel arches. It's all tastefully done. This is quite a handsome vehicle.
And in an arena that used to be dominated by European brands like Mercedes, BMW, Audi and Volvo, Subaru is now (and has been for a while) an industry leader in safety. It's one thing to chock your production vehicle with all of the safety bells and whistles consumers are offered in either standard or optional trim levels on new cars, it's another when those vehicles perform exceptionally in U.S. government and insurance industry testing. Take the most stringent of the testing protocols executed by the Insurance Institute for Highway Safety (IIHS), and Subaru models consistently earn IIHS Top Safety Pick + ratings, the highest level awarded, ensuring you can survive in a super-sized SUV and pickup truck world.
The 2021 Crosstrek comes in four different trim levels:
Crosstrek - $22,245 (with 2.0-liter engine)

Crosstrek Premium - $23,295 (also with 2.0)

Crosstrek Sport - $26,495 (2.5-liter engine)

Crosstrek Limited - $27,995 (also with 2.5)
All trim level prices are plus additional options (my tester was outfitted with an expansive power moonroof; Blind Spot Detection with Lane Change Assist and Rear Cross Traffic Alert; and an 8" STARLINK multimedia system versus the standard 6.5").
The 2021 Subaru Crosstrek series, and specifically the Crosstrek Sport, combine safety and go-anywhere capability, all at a value price.
Visit www.subaru.com for more details on this terrific SUV.∆