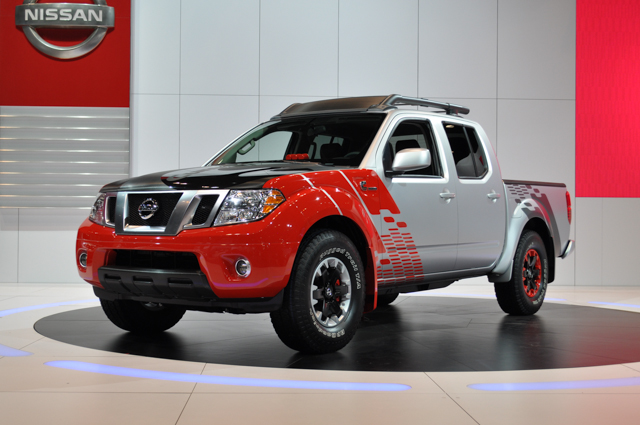 This looks like a run of the mill customized Nissan pickup, but there's something very special under the hood:  a Cummins diesel engine.  Nissan says it's using the Frontier Diesel Runner to gauge interest in a diesel-powered Frontier. Considering the upcoming Chevy Colorado diesel, however, the answer to that question should be obvious. High-efficiency diesel power trains in mid-size pickups are a great way to give these vehicles an advantage over larger trucks, providing dramatic fuel economy improvements without sacrificing capability. Nissan already plans to add a 5.0 liter turbodiesel to the next-generation Titan, but could the Frontier benefit as well?
The Frontier Diesel Runner has a 2.8 liter four-cylinder turbodiesel under the hood, courtesy of Cummins. The engine produces 200 horsepower and 350 pound-feet of torque, which Nissan says is comparable to the current V6. That's channeled through an eight-speed automatic transmission, and it's got a 3.13:1 rear end. For the most part, the Frontier Diesel Runner is otherwise stock, based on the Frontier Desert Runner. The vehicle on display is a prototype, and Nissan plans extensive test drives to determine the level of interest in a production version.
It does seem like a no-brainer; diesel engines are in use in compact pickups around the world, and there's no reason that the Frontier should be left out of the party.  We're hoping that Nissan gets the feedback it wants, and decides to produce this one.