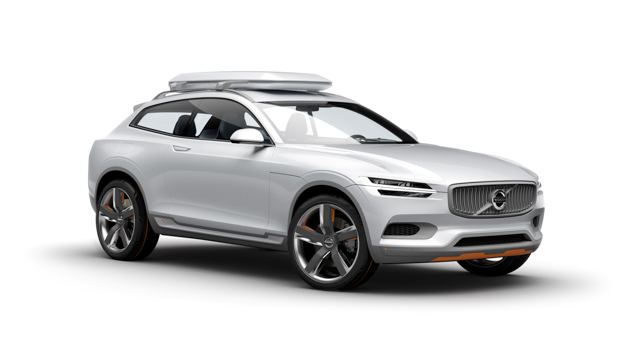 Both of Volvo's coupes have left the lineup, but the Swedish manufacturer doesn't plan to be a four-door only shop for long, if the Concept XC Coupe is any indicator. Combining the ruggedness of Volvo's XC vehicles with a sporty two-door body, this dream car is inspired by sporting equipment and built for adventure.
Designed to highlight the advantages of Volvo's new Scalable Architecture, the Concept XC Coupe is a burlier take on the Concept Coupe concept shown earlier this year. Massive twenty-one inch wheels, aggressively flared fenders and a raised roof give this new concept a much more capable appearance. Skid plates and protective side moldings have been subtly integrated into the design. Orange highlights are inspired in part by POC, a Swedish manufacturer of high-tech protective gear for gravity sports athletes. "Those who love gravity sports freely seek new thrills and challenges. To ensure that they make it back in one piece, they prefer high-performance equipment that offers the ultimate sense of freedom and protection," said Thomas Ingenlath, senior vice president design of Volvo Car Group.
Volvo has also restyled the hood and beltline, and suggests that the look, with its "floating" grille and T-shaped daytime running lights, hints at the style of future Volvos. At the rear, the Concept XC Coupe features distinctive LED lighting accents similar to what's coming for Volvo's production cars.