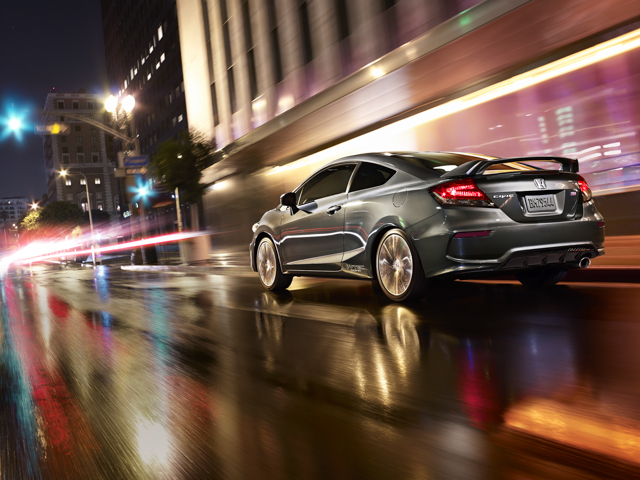 There are plenty of custom cars to be found at SEMA, but there will also be at least one production car seeing the light of day for the first time. After refreshing the Civic for 2013, Honda's editing its compact coupe again for 2014, and the mid-cycle refresh of the Civic's early-cycle refresh will be shown at SEMA.
It's actually fitting, as the Civic has been a darling of the sport-compact scene since its inception almost twenty years ago. The Civic's sprightly performance, economy and easily modifiable body made it a blank slate for many customizers, and Honda continues to play to that audience by providing a reliable platform for upgrading. Honda will show several modified Civic coupes as well as the enhanced 2014 version. No technical details have been announced yet, but teaser photos show a much more refined design that's clearly been influenced by the newly upscale Accord Coupe. The Civic had more aggressive sculpting on the body sides and a BMW-like C-pillar, as well as larger wheels. A loop spoiler and ground effects kit visible in the photo may be aftermarket pieces--or maybe the new Civic Si is going to be a seriously hot car. We'll find out next week.
Also on display at the Honda booth in the Las Vegas Convention Center will be the "Mean Mower," a riding lawn mower developed and modified by Honda's UK arm and British Touring Car Championship winning Team Dynamics. This riding lawnmower is capable of 133 miles per hour and has been clocked as the world's fastest. And yes, it's a functional lawnmower.